If this site was useful to you, we'd be happy for a small donation. Be sure to enter "MLA donation" in the Comments box.
Penner, Cornelius (1868-1954)
From Biograph
Mennonite Weekly Review obituary: 1954 Sep 30 p. 6
Birth date: 1868
text of obituary: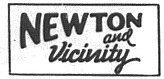 . . .
— Friends here have received word of the passing of Rev. Cornelius Penner at Beatrice, Neb., for many years one of the ministers at the First Mennonite church of that place. Funeral services are to be held Friday, at 1:30 p.m. in the funeral home and 2:15 at the First Mennonite church of Beatrice.

Mennonite Weekly Review obituary: 1954 Oct 14 p. 9
The Mennonite obituary: 1954 Nov 9 p. 704