If this site was useful to you, we'd be happy for a small donation. Be sure to enter "MLA donation" in the Comments box.
Penner, Cornelius (1868-1954)
From Biograph
Mennonite Weekly Review obituary: 1954 Sep 30 p. 6
Birth date: 1868 May 17
text of obituary: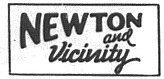 . . .
— Friends here have received word of the passing of Rev. Cornelius Penner at Beatrice, Neb., for many years one of the ministers at the First Mennonite church of that place. Funeral services are to be held Friday, at 1:30 p.m. in the funeral home and 2:15 at the First Mennonite church of Beatrice.
---
Mennonite Weekly Review obituary: 1954 Oct 14 p. 9
text of obituary:
CORNELIUS PENNER
Cornelius Penner, son of Gerhard and Anna Froese Penner, was born May 17, 1868, at Kotzleitzke, West Prussia. He passed to his eternal reward at 12:25 p.m. Sept 27, 1954, at the Mennonite hospital, Beatrice, Nebr., where he received loving and sympathetic care for six and one-half weeks. He reached the age of 86 years, four months and 10 days.
In 1he age of nine years he emigrated with his parents to America, locating at Beatrice, Nebr., where he lived the rest of his life.
His elementary education was received in the Beatrice schools. Here he also attended business college for one year. Later he attended the Halstead "Fortbildungschule" for two years.
He was baptized upon a personal confession of faith in 1886 by his father, Elder Gerhard Penner, becoming an active member of the First Mennonite Church of Beatrice.
He was married to Wilhelmine Reimer on April 10, 1902, establishing a home on a farm near Beatrice. the Lord blessed this home with eight children. Three infant sons preceded him in death.
In then spring of 1903 the First Mennonite church of Beatrice elected him to the ministry. He accepted the Lord's call and was ordained on April 12, 1903, and served actively in the ministry over forty years.
He was active in the local Mennonite hospital and served as a member of the board of trustees. He was also interested in higher education and served as a member of the board of directors of Bethel College for several years.
Due to the poor health of Mrs. Penner, they moved to Beatrice from the farm in 1940.
In recent years his health failed gradually and he became more dependent upon the help of others. Even though he was often unable to express himself verbally, he was deeply grateful for visitors and kindnesses shown him.
Through God's grace they were permitted to observe their 50th wedding anniversary in 1952.
Those who remain to mourn his departure are his beloved wife, three sons, two daughters, one son-in-law, three daughters-in-law, eight grandchildren, three great-grandchildren, one brother, three sisters and many relatives and friends.
The words of Paul in Philippians 1:21 express the faith of the departed. "For to me to live is Christ, and to die is gain."

The Mennonite obituary: 1954 Nov 9 p. 704