If this site was useful to you, we'd be happy for a small donation. Be sure to enter "MLA donation" in the Comments box.
Zielke, Henry (1868-1954)
From Biograph
Mennonite Weekly Review obituary: 1954 Sep 23 p. 3
Birth date: 1868 May 25
text of obituary: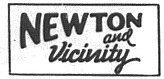 — Henry Zielke, well-known retired farmer of Buhler, died at the Axtell Christian hospital here Thursday, Sept. 16. Funeral services were held Sunday afternoon at the Buhler Mennonite church, Rev. Irvin Richert and Rev. A. J. Dyck officiating. Mr. Zielke was born in Russia on May 25, 1868. He leaves three sons, four daughters, 20 grandchildren, 22 great-grandchildren and one sister, Mrs. H. Y. Unruh of Buhler.
---
Mennonite Weekly Review obituary: 1954 Oct 7 p. 9
text of obituary:
HENRY ZIELKE
Henry Zielke, our father, son of Henry Zielke and Anna Teske Zielke, was born in the village of Waldheim in southern Russia on May 25, 1868. He came to America in the great migration of Mennonites from Russia to America in 1874 when but a boy of six years. Together with his mother, he went through the hardships of pioneer life. His mother was very much dependent on his help for family support and could not give him any advanced education, but he attended the public school in McPherson county, Kansas.
When he reached the age of self-accountability, he recognized the need of a Savior and accepted Christ as his personal Savior. He was baptized on Nov. 4, 1888, by elder Dietrich Gaeddert and accepted as a member into the Hoffnungsau Mennonite church where he remained a faithful member till he transferred his membership to the Friedensfeld church in Beaver county, Okla., where he became a charter member when that church was organized. In 1950 he became a member of the Buhler Mennonite church in Buhler, to which place he had moved from Beaver county, Okla.
He united in marriage with Katherina Becker on Nov. 21, 1893, and was permitted to share joys and hardships with her for more than 52 years. She passed into the Great Beyond in September 1949. Her passing caused him much sorrow and great loneliness. To this union eight children were born, four sons and four daughters. One son died in infancy.
Father enjoyed good health the greater part of his life, but in November 1948 he underwent a major operation. He, however, completely recovered and lived happily after that, although his hearing and eyesight became weak.
He was a praying, loving and caring father. These things will live in our memories even though he has passed from us. We grant him his rest after a long and hard life, even though there are heartaches and teardrops. He quietly passed to his reward on Sept. 16, 1954, to be forever with his Savior in whom he believed and trusted to the end.
He reached the age of 86 years, three months, and 21 days. He leaves to mourn his departure: Three sons, Jacob and wife of Liberal, Kans., John and wife, and Arnold and wife of Buhler, Kans.; four daughters, Katharine, Mrs. Tobias Dirks and husband of Liberal, Kans., Sara, Mrs. David Dirks and husband of Buhler, Kans., Anna, Mrs. Peter Franz and husband of Turpin, Okla., and Lydia, Mrs. Herbert Buller of Buhler, Kans. Also surviving are a sister Helen, Mrs. Henry T. Unruh of Buhler, 20 grandchildren and 22 great-grandchildren, besides many relatives and friends.