If this site was useful to you, we'd be happy for a small donation.
Warkentin, Aaron H. (1871-1953)
From Biograph
Mennonite Weekly Review obituary: 1953 Oct 22 p. 6
Birth date: 1871
text of obituary: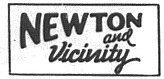 . . .
— Aaron H. Warkentin, 82, who had lived in Goessel as a retired farmer for the past eight years, died at the Bethesda hospital there on Monday. Funeral services were held Wednesday afternoon at the Goessel Mennonite church, Rev. P. P. Buller of Newton officiating. Mr. Warkentin is survived by his wife, three sons, one daughter, Mrs. Richard Regier of Burrton, and nine grandchildren.
---
Mennonite Weekly Review obituary: 1953 Nov 19 p. 9
text of obituary:
AARON H. WARKENTIN
Aaron H. Warkentin was born Aug. 21, 1871, in South Russia and emigrated to America with his parents at the age of six years. He received his elementary education under Peter Krause. He was baptized and received into the Alexanderwohl church May 18, 1891.
He was married on Feb. 22, 1906, to Mary Dalke, at Gotebo, Okla., making the time of his wedded life 47 years, seven months 27 days. Children born to this union are E. Carl of Little Rock, Ark., Vera (Mrs. Richard Regier) of Burrton, Ralph of Oklahoma City and Lowell of Arnett, Okla. Nine grandchildren also survive.
He was a devoted husband and father. He took life seriously, setting his hope in the glorious life that is beyond. He endured his long and tedious suffering patiently, knowing that in that gloroius [sic] land of light and joy there would be no suffering any more. On the fly leaf of his old "Gesangbuch mit Noten" were found the numbers of his three best loved songs, i.e., 195, 305, and 368.—Mrs. Warkentin and family.