If this site was useful to you, we'd be happy for a small donation. Be sure to enter "MLA donation" in the Comments box.
Wall, Harry David (1921-1954)
From Biograph
Mennonite Weekly Review obituary: 1954 Sep 30 p. 6
Birth date: 1921
text of obituary: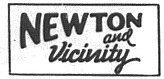 . . .
— One of two fatal accidents Tuesday night near Ulysses, Kansas claimed the life of Harry Wall, about 33 years of age, son of Mr. and Mrs. Peter Wall of the Buhler community. He was driving alone in his pickup truck south of Ulysses when it upset, pinning him in the wreckage. He had extensive farming interests in Tribune county. Besides the parents, he is survived by two brothers, Ervin Wall of Wichita and Robert Wall of Denver. A number of relatives live live [sic] in the Newton and Goessel communities.
---
Mennonite Weekly Review obituary: 1954 Oct 14 p. 9
text of obituary:
HARRY DAVID WALL
Harry David Wall, son of Peter and Maria Unruh Wall, was born in Reno county, Kansas on May 20, 1921, and died on Sept 28, 1954, at 6:30 p.m. near Ulysses in an auto accident when his truck overturned and he was pinned underneath it, killing him instantly. He reached the age of 33 years, four months, and eight days.
He lived with his parents in Reno county on a farm until he started farming in Greeley county, Kansas in 1945 and lived there a great part of the time. He received his schooling in the Buhler grade and high schools, graduating from the grade school in 1935, being the 22nd from the top among a group of 457 graduates in Reno county. He also graduated from the Buhler high school in 1939.
He felt the need of a personal Saviour when he reached the age of accountability and accepted Christ as his personal Savior. He was baptized by Rev. J. M. Suderman upon the confession of his faith on May 30. 1937, and united with the Buhler Mennonite church of which he was a faithful member to the end. At Tribune he attended the Presbyterian church regularly, also taking part in the mid-week prayer meetings which he enjoyed very much.
He was partially paralyzed from his childhood and sought physical help at various hospitals. Three times he was operated on in St. Louis and last year again at Wichita, Kansas. When the doctor there told him there was no further help for him, but that he should be content if he could walk, he became resigned to his lot and said time and again. "This is my lot and I will bear it to the end." His favorite Bible verse always was "Have faith in God." so we are confident he is safe in the arms of Jesus. We grant him the rest even though our heart aches and our tear drops flow. We say not good-bye, but merely, "Farewell. till we meet again."
He leaves to mourn his early departure his parents, Peter and Maria Wall, of Buhler, Kansas; two brothers, Ervin and wife of Wichita, Kansas and Robert of Denver, Colo. One brother Menno died in infancy. Also surviving are five uncles and six aunts and many other relatives and friends.
— The Bereaved Family.

The Mennonite obituary: 1955 Jan 4 p. 14