If this site was useful to you, we'd be happy for a small donation.
Schrag, Joseph H. (1870-1953)
From Biograph
Mennonite Weekly Review obituary: 1953 Oct 15 p. 6
Birth date: 1870 Mar 28
text of obituary: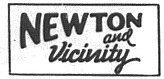 . . .
— Funeral services were held at the First Mennonite church of Pretty Prairie on Sunday afternoon for Joseph Schrag, 83-year-old retired farmer who died at the Bethel Home here Friday, Oct. 9. He was born in Russia March 28, 1870, and had lived in the Pretty Prairie community for 47 years. Surviving are two sons, four daughters, grandchildren and great-grandchildren, as well as five brothers and two sisters.

The Mennonite obituary: 1953 Oct 27 p. 672