If this site was useful to you, we'd be happy for a small donation. Be sure to enter "MLA donation" in the Comments box.
Schrag, Carolina (1888-1954)
From Biograph
Mennonite Weekly Review obituary: 1954 Jul 22 p.6
Birth date: 1888 Oct 15
text of obituary: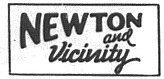 . . .
— Miss Carolina Schrag, 65, passed away in Newton at 8:15 p.m. Thursday evening, July 15, at the home of her brother, Menno Schrag and family. She was a daughter of the late Andrew and Freni Schrag of Pretty Prairie, where also funeral services were held at the First Mennonite church last Sunday afternoon. Having been a cripple from early youth, she has been released from a life of much affliction and suffering. A fuller account of her life appears under the "In Memoriam" section of this issue of the Review.
---
Mennonite Weekly Review obituary: 1954 Jul 22 p. 9
CAROLINA SCHRAG
Carolina Schrag, daughter of Andrew G. and Freni Schrag, and second oldest of 11 children, was born Oct. 15, 1888, at the family homestead in Harvey county, Kansas. She passed away at 8:15 p.m. on Thursday, July 15, 1954, also in Harvey county at the home of a brother, Menno Schrag and family in Newton.
After receiving catechetical instruction and upon confession of faith in Christ as her personal Saviour, she was baptized June 18, 1905 by Elder Christian Krehbiel and received into membership in the First Mennonite church of Christian at Moundridge. Of this church she remained a member until the family moved to Kingman county in the early 1920's and joined the First Mennonite church of Pretty Prairie.
Since early youth she was afflicted with a bodily deformity that made it impossible for her to engage in the usual physical activities and the more strenuous work common on the farm. But in spite of her handicap, she attended district school for several years and was of much help in the home. She loved beautiful things and spent many hours reading or singing favorite hymns.
The passing of our mother on August 10, 1949, brought a marked loneliness into her life. In simple faith she often spoke of going to be with, mother and Jesus in heaven. Although there is sorrow in parting, we also rejoice that her longing has now been fulfilled. Father preceded her in death on August 1, 1950.
During the past five years she was cared for in the homes of various brothers and sisters. Even with her life-long affliction, she attained the age of 65 years and nine months.
She is survived by four brothers and their families: Sam and Amanda Schrag, Cheney; John and Verna Schrag, Omaha, Nebr.; Dan and Adina Schrag, Pretty Prairie; Menno and Gertrude Schrag, Newton; also by six sisters and their families: Rose, Mrs. P. P. Schrag, Pretty Prairie; Mrs. Anna Ratzlaff, Newton; Clara, Mrs. E. E. Borth, Cheney; Kate, Mrs. J. D. Saner, El Dorado; Marie [sic Maria], Mrs. Herman Winsinger, Pretty Prairie, and Lillian, Mrs. James Heathershaw, Cheney.
Funeral services were held Sunday afternoon, July 18, at 1:30 o'clock in the home of Mr. and Mrs. James Heathershaw and at 2:15 in the First Mennonite church of Pretty Prairie.
Internment [sic] was made beside the grave of her mother in the church cemetery.
The services were in charge of Dr. Howard G. Nyce, pastor, who was assisted at the church and graveside by Rev. S. J. Georing [sic Goering] of North Newton.

The Mennonite obituary: 1954 Aug 10 p. 496
Birth date: 1888