If this site was useful to you, we'd be happy for a small donation. Be sure to enter "MLA donation" in the Comments box.
Lehman, Amalia (1885-1954)
From Biograph
Mennonite Weekly Review obituary: 1954 Oct 7 p. 6
Birth date: 1885 Nov 19
text of obituary: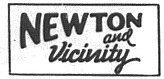 . . .
— Funeral services held here Monday afternoon for Sister Amalia Lehman, 68, a member of the Bethel Deaconess Sisterhood since 1916, were widely attended. She passed away Thursday, Sept. 30, a few hours after undergoing surgery at Bethel hospital. A brief service at the Sister Frieda Memorial chapel in charge of Rev. Ernst Harder, hospital chaplain, was followed by services at the First Mennonite church where Rev. D. J. Unruh and Rev. H. J. Dyck, president of the Bethel Deaconess Home and Hospital Board, officiated. Burial was made in the Greenwood cemetery. Rev. J. E. Entz conducting the graveside service. Sister Amalia, a native of Berne, Ind., is survived by two sisters and five brothers, all of that vicinity. She requested that no flowers be sent for her funeral, but that instead donations be made for missions.
---
Mennonite Weekly Review obituary: 1954 Oct 14 p. 9
text of obituary:
SISTER AMALIA LEHMAN
"Tomorrow I may be in Heaven, I shall serve the Lord today. It will be glory for me when I shall see His face." This, as far as we know, is the last written message left by our Sister Amalia. It expresses a longing that was characteristic of her. In 1945, at the age of 60, she wrote in her diary: "When will it be my turn to go?"
Born Nov. 19, 1885, near Berne, Ind., Amelia Lehman was reared and schooled in the healthful atmosphere of a Christian community. Her education included several terms in the Moody Bible Institute in Chicago. Her aim in life has been: I will serve the Lord with the gifts He has given me. Through the years she has been a zealous student of the Bible, a faithful witness of His grace, a praying Christian and a humble servant and handmaiden of the Lord. She saw and loved the beautfiul [sic] in nature and in life about her. Through her, a small brush, a little paint, a verse of Scripture together with a prayer have been a blessing to many.
Sister Amalia came to the Bethel Deaconess Hospital for a course in nursing Sept. 7, 1915, was ordained as a deaconess in 1919 and served faithfully until Monday evening Sept. 27, 1954. We believe she wrote: "Tomorrow I may be in Heaven" on Monday, Sept. 27. On Thursday, Sept. 30, at 11:15 a.m. she went to be with the Lord after an operation earlier in the morning. She has followed her sisters Alice and Caroline, and will bid a good morning to us and her many relatives and friends as we meet her there.
Three sisters, Gertrude, (Mrs. Clinton Soldner), Elizabeth (Mrs. Elmer Lehman), and Laura (Mrs. Irvin Canon), four brothers, Levi, Omer, Horace, and Wesley, two brothers-in-law, nieces, nephews, many friends as well as all of us in the Bethel institutions will miss her, but we rejoice with her for her faith has become sight.
Funeral services were conducted Monday, Oct. 4, 1954, at 1:30 p.m. in the Sister Frieda Memorial Chapel where Rev. Ernst Harder officiated, and at 2:00 p.m. in the First Mennonite church with Rev. H. J. Dyck and Rev. D. J. Unruh in charge. Interment was made in Greenwood cemetery near Newton, Rev. J. E. Entz conducting the commital [sic] service.