If this site was useful to you, we'd be happy for a small donation. Be sure to enter "MLA donation" in the Comments box.
Janzen, Elizabeth Heidebrecht (1862-1954)
From Biograph
Mennonite Weekly Review obituary: 1954 Oct 14 p. 6
Birth date: 1862 May 20
text of obituary: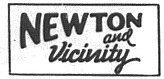 — Funeral services for Mrs. Elizabeth Janzen, 92, who was among the pioneer immigrants from South Russia, were to be held Thursday afternoon at 2:00 o'clock in the Hoffnungsau church near Inman. Mrs. Janzen passed away Sunday afternoon at the Bethesda hospital in Goessel. Born in South Russia on May 20, 1862, she had lived at Newton for some years before moving to Goessel about three years ago. She leaves three daughters and five sons; two brothers, D. C. Heidebrecht of Buhler and A. C. Heidebrecht of Burrton; one sister, Mrs. Katie Buller of Orienta, Okla.; and 47 grandchildren. P. H. Janzen, a son, resides in Newton.
---
Mennonite Weekly Review obituary: 1954 Dec 2 p. 8
text of obituary:
MRS. HENRY JANZEN
Mrs. Elizabeth Janzen was born in Waldheim, South Russia, the daughter of Rev. Peter and Elizabeth (Nachtigal) Heidebrecht, on May 20, 1862. She came from Russia to America with her parents in the large emigration movement of 1874.
She was less than 12 years of age when they came here, and as a young child she learned early to help take care of the household duties and shared in family responsibilities. Her early years were the rigorous and hard pioneer days.
School days were very limited because the school system grew up with the pioneers who were building their homes and conquering the prairies, and the children were needed in the building of home, churches, and schools. Consequently her school days numbered no more than three months, some of which was still in Russia. However she wrote her own letters, read her Bible, and later also learned to read English so that she could read the daily papers.
On Nov. 26, 1882, she was baptized upon her confession of faith in Christ as her personal Saviour. Elder Dietrich Gaeddert served as her instructor in catechism, baptized her, and received her into the membership of the Hoffnungsau Mennonite church. This was the first class of catechumens baptized in the newly erected adobe brick building, which was the first church house erected by this congregation in America. She was a faithful member of this church to the end of her days, except for a few years when she was a member of the Watova, Okla. congregation.
On Feb. 3, 1885, she was united in marriage to Henry Janzen. Mr. Janzen was a widower, having had three children, of whom only one was living at the time of the marriage to Elizabeth Heidebrecht. To this union were born eight children, four sons and four daughters, of whom one, Susie, Mrs. Ernest Flaming, preceded the mother in death in 1946. While living in Watova, Okla., in 1915, Mr. Janzen passed away. His early departure left her a widow for almost 39 years.
That her life has not been an easy road all who knew her would agree. In spite of trials and hardships, she was of a kindly disposition. The many Bible verses which she knew, and the many verses of hymns that she could both recite and sing seemed to be a constant source of new courage for her. They spoke of Him in whom she believed, "Whose she was and whom she tried to serve." She was again reading through the Bible, and was in the Book of Revelation when she fell and broke her hip. After that she was confined to the Goessel hospital. For the loving, Christian care given her both in the hospital and the Home she was very grateful.
She quietly passed away at the Goessel hospital on Sunday afternoon, Oct. 10, after many days of eager and expectant waiting to be called Home. She reached the age of 92 years, four months and 20 days. Those who remain of her family to follow in her steps are the following: Henry L. Janzen and family, Weatherford, Okla., the only surviving son of her husband's first marriage; Peter and family of Newton; Elizabeth, Mrs. G. J. Harder, husband and family, Meade, Kans.; Cornelius and family, Custer, Okla.; Katherine, Mrs. B. H. Janzen, husband and family, Cuauhtemoc, Mexixo [sic Mexico]; Helen, Mrs. P. H. Gaeddert, husband and family, Buhler, Kans.; Gustav and family, Reedley, Calif.; and Ted and family of Berkley, Cal. Susie preceded her mother in death in 1946, but her husband, Ernest Flaming and family, of Reedley, Calif, also are numbered among the survivors. There are 47 living grandchildren, and 55 great-grandchildren.
There are also two brothers surviving, A. Q. Heidebrecht of Burrton, Kans. and David C. Heidebrecht of Buhler, Kans., and one sister, Mrs. Katharina Buller, of Orienta, Okla. — The Family.