If this site was useful to you, we'd be happy for a small donation. Be sure to enter "MLA donation" in the Comments box.
Holderman, Sarah E. (1879-1954)
From Biograph
Mennonite Weekly Review obituary: 1954 Jul 8 p. 6
Birth date: 1879
text of obituary: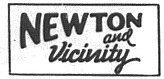 . . .
— Geo. W. Holderman of El Dorado Springs, Mo., transacted business in Newton Saturday, while en route home from Windom where he had attended the funeral of his mother, Mrs. Sarah E. Holderman. Mrs. Holderman died at El Dorado Springs June 28, after having been bedfast for more than a year. Final services and burial took place at the West Liberty Mennonite church on July 2, with Rev. Menno Troyer in charge. Mrs. Holderman, who was 75 years old, is survived by her husband and seven sons: George Henry, Calvin, Charles, Darrell, Ralph and Kenneth. A daughter Margaret, died in childhood.