2015, vol. 69
Review: Girl Runner
Carrie Snyder, Girl Runner. Toronto: House of Anansi, 2014; New York: HarperCollins, 2015.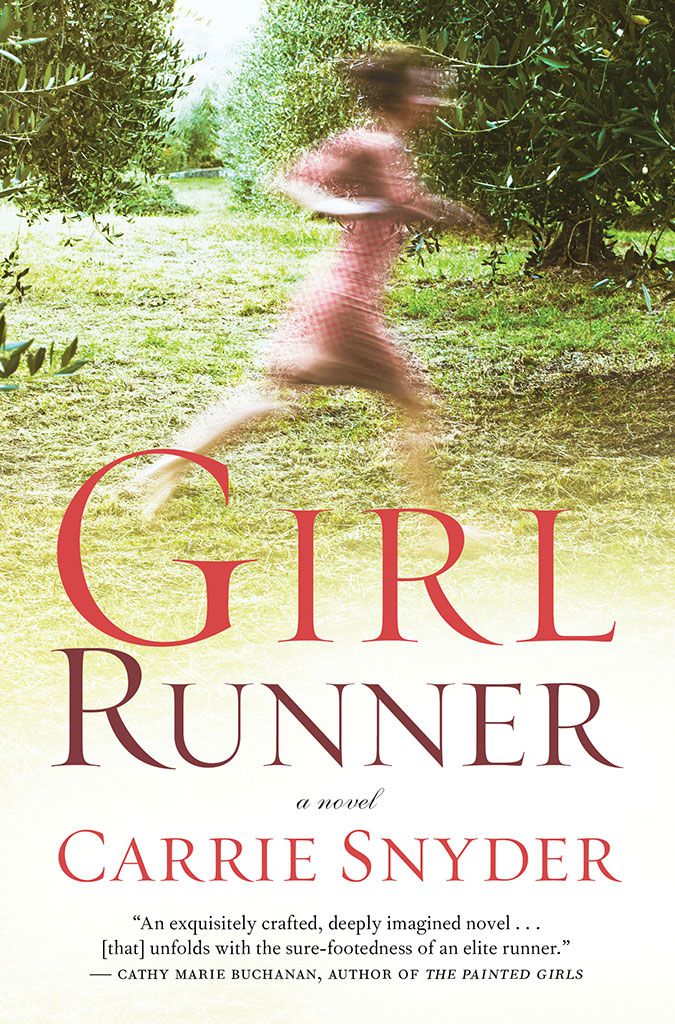 Girl Runner by Carrie Snyder
Girl Runner narrates the life story of Aganetha Smart, a beautiful, independent gold medalist who championed the 800 metres for Canada in the 1928 Olympic Games. While her passion for running is evident throughout the book, running also serves as a metaphor for both public and private parts of Aggie's journey.
The novel uses multiple temporal settings that are integrated throughout each chapter, illustrating the memories of Aganetha. Snyder's ability to shift smoothly from early childhood to present day to young adulthood provides an graceful description of the ways in which 104 years of Aganetha's life shape an understanding of the world. The weaving of these memories overlap in the storyline, carrying the reader along for the ride.
Of primary importance to Smart are the strong relationships she has formed with other women: her trainer and mentor Ms. Gibb, her mother, her sisters, and her intimate friendship with her co-competitor and friend, Glad. These relationships frame her growth. While she is very independent, her emotional connection to these women is evident, telling a story detailed with love and loss.
In addition to being a member of the first women's track team to compete in the 1928 Olympics, Aganetha navigates feminism through a variety of other stories from her life including: assisting her mother to care for young women in their community, working in a confectionary, caregiving for her family members, modeling for a fashion magazine, and writing for a newspaper. Her newspaper demotion from murder-writing to obituaries at the end of the war signals the shifting view of the kinds of roles that were permissible for women during that time.
Snyder's fusion of fiction and history facilitates an imaginative response. She has carefully chosen which pieces to include in particular parts of the book. Her poetic voice carries the reader in a compelling way through the use of memory, aesthetics and metaphor, with particularly thick descriptions of bodily awareness and movement.
In her interview with The Globe and Mail in October, 2014, Snyder reflected, So much of how we experience life – our contentment, our openness, our empathy for others – is bound up in interpretation of the past.1 She is effective in her ability to portray these life experiences for the colorful characters in her book. It is no doubt a complicated thing to illustrate the frankness and determination of Aganetha Smart, while simultaneously demonstrating the intricate layers of her persona. In the very first page of the book Aganetha states simply, You do what you do until you're done. You are who you are until you're not.
Aganetha Smart's determination for running won her the highest athletic honor for a Canadian woman in 1928. Her reasons for doing so were much more than the honor or accolades of the gold:
You never run again like you run as a child: without pain. Later, you reach a point at which you've run the fastest you will ever run—the pinnacle that goes unrecognized at the time. I remember whispering the word indestructible as I ran or as I approached a great grief, but I only chanted it because I knew I wasn't. I never ran because I was strong, if you see what I am saying. It wasn't strength that made me a runner, it was the desire to be strong. (p. 135).
Snyder's last book, The Juliet Stories, which was a finalist for the Governor General's Award for Fiction in 2012, chronicled a young girl whose family moved to Nicaragua in the 1980's to work for peace. Part fiction and part memoir, this book drew the reader in with poignant story and compelling relationships. Both The Juliet Stories and Girl Runner are reflective of her Mennonite background, without explicit mention. The farm belonging to the Smart family in rural Ontario, the proximity of extended family, and the delicate but deep family relationships all remind this Mennonite reader of a distinctive common to Mennonite communities: the importance of community and keeping family ties bound tightly.
The CBC awarded Girl Runner a literary award in 2014 and named Carrie Snyder one of the top 10 Canadian women writers you should read right now. Girl Runner has been sold in more than twelve different countries and territories. This novel will be appreciated by all reading enthusiasts: runners or not.
Footnotes
Carrie Snyder on why she wrote Girl Runner, the best advice she's ever gotten and more The Globe and Mail, October 17, 2014.