2013, vol. 67
Reflecting on a History of the Visual Arts at Bethel College
A Bethel College education has included the visual arts ever since the first art classes were offered in 1895. To honor that legacy, in conjunction with the 125th anniversary year at Bethel College, a slate of alumni artists was invited to fill this year's exhibition schedule in the Fine Arts Center Gallery. From cyborg sculptures to paintings of Bethel area architecture and landscapes, the diverse line-up of exhibitions showcased the work of alumni and former faculty. As we celebrate this quasquicentennial, we reflect on the present as well as the past, sharing some of the program's history in both written and visual forms.
Art at Bethel, Then and Now
Over the decades, we have seen much change in what comprises an education in the arts at Bethel College. Early classes at Bethel included drawing and oil painting, but also ornamental penmanship, china painting, and pyrography (wood-burning). Some years included coursework in textiles and crafts, while more recent years have seen courses that incorporate digital processes, in both photography and design.
Naturally, the faculty has changed as well, but while the early years saw some high turnover in art instruction, most of the 20th century saw committed, long-term faculty members. Clara Lemmon was the first art instructor in 1895, succeeded in 1899 by Mary Wirkler. After the turn of the century, Christopher Paulus joined the faculty, followed three years later by Elizabeth Lizzie Wirkler. After Wirkler's departure in 1915, several other short-term faculty members included Mildred Schuler, Joy Davis, Alice Hulick, Daisy Koppes, Elizabeth Penner, Alleen Woodbury, Marie Orr and Vinnie Lindbeck, some of whom were employed only for summer terms. [1. For more information on the history of art at Bethel, see Bob Regier, Introduction and History, Bethel College Centennial Alumni Art Exhibit (North Newton, KS: Bethel College, 1987): np.]
The first long-term stability for the art program occurred in 1934 when Lena Waltner joined the Bethel faculty, providing leadership until 1960. Under her direction, Bethel first established an art minor. This past year, Lena Waltner's descendants established a visiting artist endowment in her name.
For the next several decades, Paul Friesen and Bob Regier assumed joint leadership of the art program. With their direction, the art minor expanded into an art major. They also oversaw facilities changes, moving from the top floor of the Administration Building to two rooms on the ground floor of the Science Hall (now the Will Family Academic Center). Marvin Bartel also taught classes during these years.
During the 1970s, Bob Regier, Paul Friesen, and Miguel Almanza taught in a cooperative art program for both Bethel and Hesston College, commuting between the two campuses. The 1980s saw more new facilities, with a ceramics and sculpture area developed in Memorial Hall, as well as new faculty, with the hiring of long-time professor Gail Lutsch. Katherine Bartel and Reinhild Janzen also taught part-time.
Merrill Krabill joined the art program in 1989 and just a few years later, the entire department relocated to its current facilities in the Franz Center. Current professor David Long, who began in 2001, has greatly expanded the ceramics program built by Paul Friesen and Merrill Krabill. Rachel Epp Buller joined the faculty in 2012.
As might be expected, the art program at Bethel College continues to evolve. In 2012, Bethel launched a new major in graphic design, with additional facilities in the newly renovated Will Family Academic Center and, soon, new faculty. We look forward to the continuing evolution of the Department of Visual Arts and Design at Bethel College.
A Visual Celebration
The year-long exhibition program of the Fine Arts Center Gallery visually marked Bethel's history of involvement with the arts. The Fall Festival exhibition showcased the work of seven Bethel College art faculty members, past and present: Paul Friesen, Bob Regier, Miguel Almanza, Gail Lutsch, Merrill Krabill, David Long, and Rachel Epp Buller. The rest of the year's exhibitions profiled individual art alumni: Nate Ferree, Carolyn Goertzen Wedel, Conrad Snider, and Joseph Loganbill. The statements and images that follow provide a sampling of this year's visual feast.
Nate Ferre, "Cyborg Clayworks," Aug. 31-Sept. 28, 2012
Artist Statement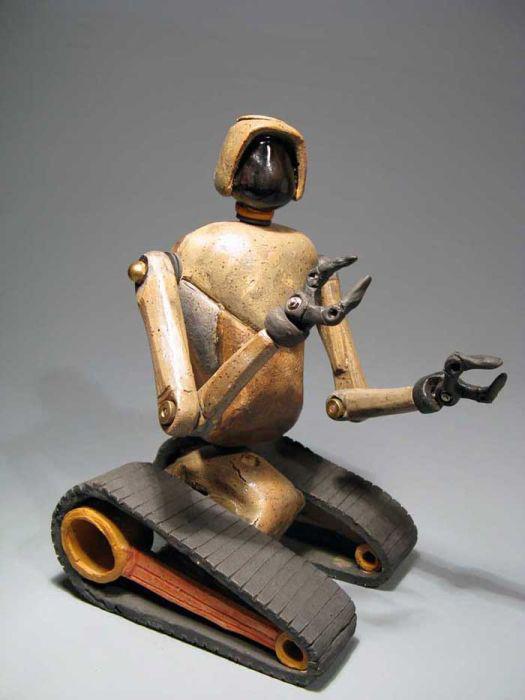 Nate Ferree, from
Cyborg Clayworks
Functional Pottery makes the foundation of my artistic life. I strive to design and develop accessible items for daily use. I seek simplicity in both glaze and form with a measured tolerance for variation. I embrace variation within parameters of low-tech standardization. In production my body and brain control an ancient machine updated with electricity to manipulate a material that helped make civilization possible. Beyond controlling the potter's wheel as a tool, I connect to it. It becomes an extension of my body. I become cyborg. The repetition of producing multiple familiar forms affords my brain the luxury of slipping into nebulous thoughts on the nature of man and machine. Our ancestors became cyborg when they implemented the first tool. Since the first extension of our bodies we are all cyborg.
Sculpture allows a way into my machine dreams. Out of my nebulous thoughts little pinpoints of insight emerge. Crystalline beings shimmer in the primordial ooze of my brain. Working in a soft malleable material I reproduce these characters into this world. From soft amorphous beginnings they take on shape and detail and finally solidify into reality by fire. I look through their eyes and catch glimpses of an emerging narrative, its roots ancient and branches infinite.
Current and former Bethel College art faculty, Generations, Oct. 5–26, 2012
L—R, Bob Regier, Miguel Almanza, and Paul Friesen — photo courtesy of Gregg Friesen
Carolyn Wedel, Stewards of the Land, Nov. 2-30, 2012
Artist Statement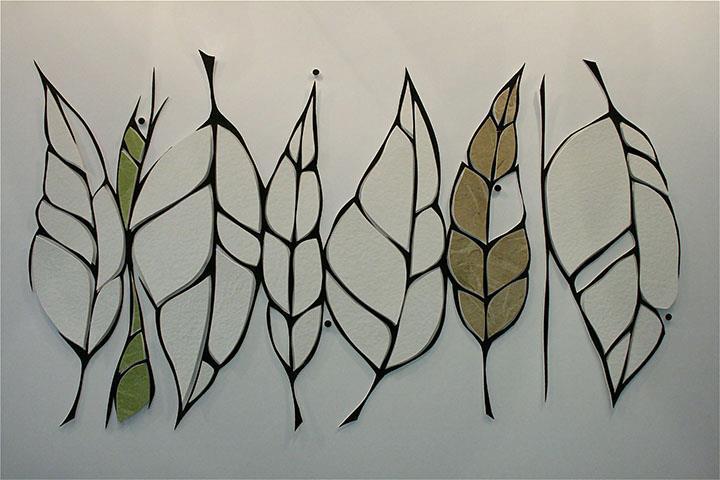 Carolyn Wedel; a mixed media exhibit commemorating the rich heritage of the Mennonite farmer
Historically the Mennonite people have been a people of sojourn, a parallel to the children of Israel. In spite of their shortcomings, their history is a powerful testimony to the survival of a faith amidst wanderings and hardships of a pioneer.
For more than 400 years these people have retained their identity while wandering from the Netherlands and Northern Germany to Prussia, from Prussia to Russia, and eventually to the Americas.
With the progression of time, their lifestyle became increasingly more revolutionary; regrettably their faith has increasingly lost some of its simplicity but always remained as the basic ingredient in the demanding sacrifices of a pioneering spirit.
Wherever they found sanctuary they exemplified thrift, industriousness and honesty. Their hallmarks were thriving wheat fields, mulberry hedges, orchards, hard work and a simple lifestyle…
Taken from Our Heritage by Wilmer A. Harms, MD:
Wheat in its life cycle parallels well the Bethel College student.
Whether one is an uncertain freshman, a mature continuing
education student, or an excited but anxious senior,
the wheat expresses life at Bethel.

Like the ripening wheat,
students at Bethel have grown and matured.

Like a shaft of wheat within the harvest,
Bethel students stand single and distinct in themselves.

Like the shaft that is bundled in a sheaf,
Bethel students gain meaning within their courses, halls, and clubs.

Like the grain that is threshed and divided from its chaff,
Bethel students separate themselves from old habits and attitudes.

Like the grain that goes to market,
Bethel students leave to offer themselves to the world.

Like the wheat that continues its life cycle,
Bethel students will continue to follow their cycle of growth,
distinction, meaning, transformation, and giving.

Throughout the Bethel year, students are offered a challenge.
A challenge not only of academics, but of all the experiences that Bethel offers.
Through these various activities students are given a chance to change,
grow and mature. The result for each individual is the ripening.
Conrad Snider, Dusty Footprints, Jan. 18-Feb. 15, 2013
Artist Statement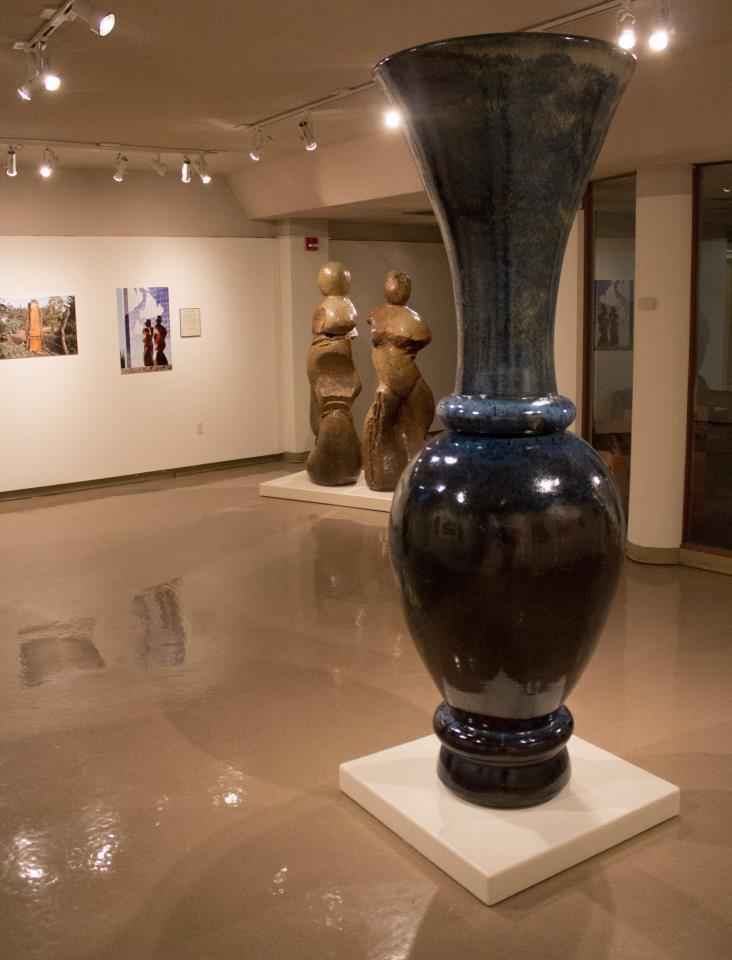 Conrad Snider,
Dusty Footprints
Growing up as a campus kid (dad Howard Snider taught sociology for 30 years), I split my time between building in the sandbox and with Legos.
Years later, after education at Bethel, Kansas City Art Institute, and locales around the world, I returned to Newton to continue my building.
Still doing pretty much the same thing, only now with clay and on a slightly larger scale!
With thanks to Vada Snider for her photographic documentation of Conrad's public installation works.
Joseph Loganbill, A Journey in Painting, Fe. 22–March 28, 2013
Artist Statement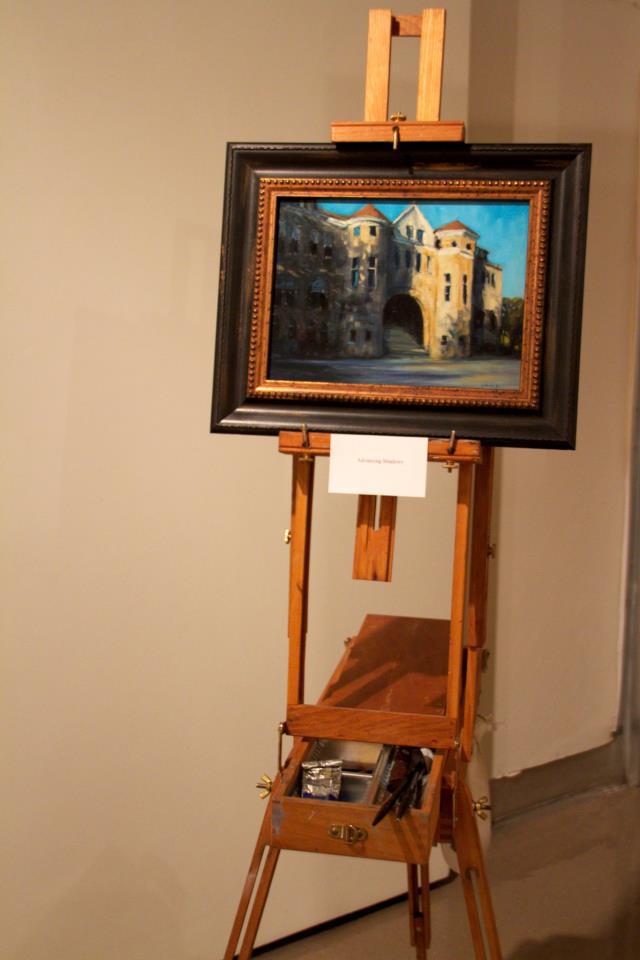 Joeseph Loganbill, from
A Journey in Painting
From the earliest age, I loved to study things and try to draw them. Taking diverse art media instruction taught me that each of these is a mode of expressing an idea, an aesthetic, a feeling.
For reasons not clear to me then, I had admired Rembrandt's paintings as a young boy. Perhaps I may have postponed studying oil painting, but once started, the challenge and range of the medium has absorbed me. Subsequently, I have come to also especially appreciate the works of John Singer Sargent and Joaquin Sorolla.
I believe that even the seemingly ordinary moments of our lives carry the potential gift of unique insights into our spiritual nature and purpose. We have but to take time to be alert to them. To this end, our ability to perceive beauty is an important clue. I'm interested in finding and expressing these ideas in painting.