Mennonite Life – summer 2012, vol. 66
The Priority of Discipleship: Gordon Kaufman's Mennonite Influences and Influence on Mennonites
by Melanie Zuercher
Melanie Zuercher is the writer and editor for Bethel College's Office of Institutional Communications.
This summer marks the one-year anniversary of the death of Gordon Kaufman, last July 22 at age 86 from the effects of multiple myeloma. Kaufman was arguably one of the two most influential Mennonite theologians of the 20th century, along with John H. Yoder.
But while Yoder was generally accepted and welcome within the Mennonite fold, Kaufman by and large was not.
Many from the broader Mennonite church did not believe he was even Christian, much less Mennonite. Kaufman himself, and those who knew him in deeper and more personal ways, complicated that claim.
Gordan Kaufman, 1925-2011.
Photo provided by Mennonite Library and Archives.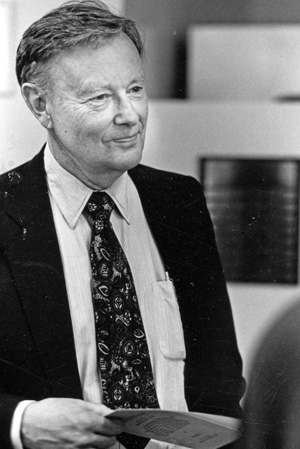 At the very least, it's likely that some found Kaufman, a towering intellect, intimidating. He left high school after his junior year to study at Bethel College, graduating in 1947. He then went on to Northwestern University and Yale for his master's degree and Ph.D. and taught at Pomona College in Claremont, Calif. (1953-58), and then Vanderbilt University (1958-63) before spending more than three decades teaching at Harvard Divinity School. Though he officially retired from Harvard in 1995, he continued to teach part-time and mentor students until 2009.

His lifetime of doing theology was largely devoted to finding new ways of understanding God. John Dart, in an obituary in The Christian Century, wrote that Kaufman "had a profound influence on rethinking theology in naturalistic terms, arguing for a vision of God as the 'profound mystery of creativity.'"

"He was radical in the true sense of the word," wrote Harry Loewen in a 1988 collection of essays he edited titled Why I Am a Mennonite. There is "no doubt," Loewen continued, that Gordon Kaufman was "one of the very few original thinkers the Mennonites have produced."

Kaufman was a prolific writer - possibly his best-known and most widely admired book was In Face of Mystery, published in 1993. His last two books were In the Beginning... Creativity (2004) and Jesus and Creativity (2006) - which were also his favorites, says his great-nephew, Jesse Nathan, San Francisco. The titles of these books express Kaufman's profound theological imagination and his constant search for new metaphors for God.

So it's not hard to imagine the average person feeling about Gordon Kaufman the way Nathan once did. Nathan's initial impression of "Uncle Gordon" was of someone "stern, very smart and slightly intimidating. I would see him at family gatherings, and I would be curious about this dignified presence."

Kaufman, says Nathan, "looked, laughed and carried himself like my grandmother, his [only] sister, Karolyn. That countered the intimidation factor."

Duane Friesen, professor emeritus of Bible and religion at Bethel College, holds the chair endowed in honor of Kaufman's father, 20-year Bethel president (1932-52) Edmund G. Kaufman. Friesen lived in the Boston-Cambridge area from 1966-70 while he was earning his Th.D. at Harvard, during which time he learned to know Kaufman in several contexts.

Since Friesen was studying ethics to Kaufman's theology, Friesen didn't take Kaufman's classes for credit but did audit some of them, and Kaufman was on Friesen's dissertation committee. In addition, Duane and Liz Friesen were active in the Mennonite Congregation of Boston, a church in which Kaufman was a member and leader from the time he and his wife Dorothy moved to the Boston area in 1963 almost up until his death.

In those days, Friesen says, the congregation met alternately, during the school year, in the home of Dorothy and Gordon Kaufman and J. Lawrence and Harriet Burkholder. "Liz and I babysat the Kaufman children, so we were in their home in Lexington, and developed a friendship that went beyond simply the scholarly."

Friesen kept in contact with Kaufman throughout the years. He was one of the major planners for a conference celebrating Kaufman's life and thought at Bethel in 1996. He last visited with Kaufman in 2008 when Friesen was the resource for the Mennonite Congregation of Boston's annual retreat. "He was a fantastic host," Friesen remembers.

After Dorothy Kaufman died in 1998, Kaufman moved into the bottom of the house he would eventually share with his daughter, Gretchen. It was the house the family had lived in for decades, and Gretchen returned with her husband and daughter to live in the upstairs apartment.

"Gordon was very creative with his hands," Friesen says. "He built furniture. He had fine woodworking skills. He made a china cabinet, a beautiful bed - there were signs of his work all over the house.

"They had traveled all over, so there were things they had brought from India and China. Dorothy was a weaver, and some of her beautiful work was around. He had a deep aesthetic sense, an appreciation for beauty and fine craftsmanship. When you got to know him, you realized how creative he was himself."

It was around creativity that Jesse Nathan connected with Kaufman on both an intellectual and a personal level.

"When I got interested in reading his work, I was a religion student at Bethel College, and he came alive as a whole person, as part of my reality," Nathan says. "In 2005, I was a senior and I was in Duane Friesen's Contemporary Theological Issues class and Uncle Gordon's In the Beginning... Creativity blew me away. It showed me that theology could be completely contemporary and relevant to life. It's not far away, it's right here and now, which seems very intuitive to me.

"I was beginning to find out I was an artist and he was defining the Divine as in fact creativity itself. He was speaking directly to me, it seemed. He had created a philosophy that was helping me understand my life."

The class also led Nathan to an adult friendship with his elder relative. "He came to Bethel that spring and stayed for a week. He talked about the book - spoke to Duane's class, presented to the faculty. He spent an afternoon with each of his great-nephews" who were Bethel students at the time - Nathan, his younger brother Jonathan and their cousin Tim Parker.

"He was interested in connecting and getting to know us," Nathan says. "He was a grandfather figure to me, since both my grandfathers died before I was 5."

Over the next few years, almost up until the time of Kaufman's death, Nathan "would go to Boston about once a year, for a week or a long weekend, and we would have focused discussions. One year, I read In the Beginning... again and prepared questions. Other times we'd talk about his days as a student, his involvement in the civil rights controversies at Vanderbilt all those years ago.

"We'd go to the local market and get sandwich material and walk around Cambridge. We took slow walks along the Charles River. In the summer of 2010, I brought him my poetry manuscript. I had sent it before and we had talked about it. I taught him something, I think, about how to read a poem - he felt very cut off from contemporary poetry, as a lot of people do.

"We talked about former Professor of Art Bob Regier's paintings - he had a couple - and an old Langston Hughes recording, of Hughes reading, on vinyl that I found in a closet. We talked one of the last summers about my intentions with regard to graduate school. We were two people on opposite ends - me just beginning my intellectual life and him at the end. It felt like it was 'just in time.'"

Nathan, now in a Ph.D. program in English literature at Stanford, credits Kaufman with being instrumental in the direction he's taking. He had begun to write poetry as a college senior and then in his first year out of college, living and working in Lawrence, Kan.

While still a Bethel student, Nathan had won first place in a peace oration contest that Mennonite Central Committee sponsors annually, open to students from all the Mennonite colleges in the United States and Canada. He decided to use the prize of scholarship money to take a course at the Iowa Writers' Workshop in the summer of 2006.

"I looked at the list of faculty and I, in my novice's oblivion, didn't know any of them," Nathan recalls. "But I saw 'Harvard Divinity School' in Katie Ford's bio note."

It turned out that Ford, a prizewinning poet who now teaches at Franklin & Marshall College in Lancaster, Pa., had been a student of Kaufman's. In the midst of her M.Div. program, she "realized literature was her life's work," Nathan says, "but she finished the M.Div. She did an independent study with Uncle Gordon, and she [later] dedicated a book to him - he was a 'life-changing' professor.

"I wrote to her and she wrote back right away, very excited." It was, to use a favorite Kaufman concept and word, "serendipitous," Nathan says, "and unexpected. A friendship developed from our common ground."

He took another class at the Iowa Writers' Workshop in 2007. Kaufman was delighted, he says, that he was studying with Ford. "He said, 'She must be a really good teacher.' He also said he had trouble understanding poetry, but that when we explained it a little, he found it beautiful. He was very sweet about it all, and humble.

"It's biased to the point of ridiculousness for me to say this, but he's my theologian. He shaped how I think of religion, the divine, my spirituality, my sense of my place in the world. His thought guides mine. I talk about his ideas all the time, especially with people who have written off religion and God."

Kaufman was very pleased, Nathan says, to find many of his great-nephews working in careers in the arts. Nathan's youngest brother, Josh, is a filmmaker with whom middle brother Jonathan collaborates. Their cousin Tim Parker, a firefighter by vocation, is a visual artist and his older brother, Kris Parker, is a composer and a DJ.

"Uncle Gordon didn't consider himself to have any artistic ability, I don't think, but he saw art as practical application of his theology," Nathan says. "He did know about beauty and what fine craftsmanship meant."

"Practical application of theology" may be one of the phrases that best describes Kaufman's lifelong theology project.

In an autobiographical lecture from 2000, later published in The Conrad Grebel Review, Kaufman explained that growing up in a Mennonite home and community, a central conviction he internalized was that "humans should always be loving" and that Christians should base their lives on the teachings of Jesus such as turning the other cheek and going the second mile. Kaufman said this was "particularly well exemplified" in his mother, Hazel Dester Kaufman, and strongly emphasized in the Bethel campus community that nurtured him.

That community became "a sanctuary" for the teenage Gordon in the late 1930s and early '40s as America moved toward and then entered the Second World War. Patriotic fervor was strong in Newton and Harvey County, especially at Newton High School. Kaufman skipped his senior year (1942-43) and entered Bethel College in fall 1942 in large part because of increasing hostility toward Mennonite pacifists, which he openly declared himself to be.

Writer Sarah Sentilles studied theology with Kaufman at Harvard and maintained a friendship with him afterward. Shortly after Kaufman's death, she recalled her last conversation with him, which centered on Kaufman's conscientious objection during the Second World War.

When she expressed her amazement that he could "stand against the frenzy of war as a pacifist," Sentilles remembers that Kaufman "insisted he did only what was natural for him to do because he was surrounded by a faith community of pacifists - the Mennonites - and was not alone in his decision not to kill."

The greatest lesson Kaufman taught her, Sentilles says, was "What matters is not what we believe but how we live and how our lives affect other living beings and the earth itself."

Gordon D. Kaufman almost certainly began his lifelong theological project when he was in his teens (if not earlier). His father, Edmund G. Kaufman was, among other things, an ordained Mennonite minister, a former Mennonite missionary to China and, for all of Kaufman's growing-up years, president of Bethel College. E.G. Kaufman had a Ph.D. from the University of Chicago Divinity School and numerous books by "liberal religious thinkers" on his shelves, many of which Gordon read when he was in high school.

At the end of that first year at Bethel, age 18 and about to be drafted, Kaufman was thinking about "how human life should be conducted," which led to his applying for conscientious objector status. Because he was "a Mennonite in good standing," his application was granted with little discussion. However, while he had no uncertainty on how a person ought to live, by then Kaufman was becoming less certain of who or what God was.

In October 1943, Kaufman was drafted and sent to Civilian Public Service Camp #5 in Colorado Springs, Colo., then later to Ypsilanti (Mich.) State Hospital to work with the mentally ill and finally to Gulfport, Miss. This experience, he said, both increased his skepticism about God and deepened his pacifist convictions, largely out of his encounters with other Mennonite and religious COs as well as men whose pacifism was not religiously based.

His CPS experience taught Kaufman that "even though we regard our way of living and thinking as right and true, we must be willing to live with and in the midst of other quite different ways of ordering life, as we seek to love our neighbor (Christians and others) as ourselves, even though we believe these others are completely wrong in their ideas and attitudes. Moral concerns about how to live were beginning to outrank and reshape my thinking on human truth-claims."

After CPS, Kaufman returned to Bethel College, where he concentrated in the social sciences and philosophy. In 1948, at age 23, now married to Dorothy Wedel, whom he had met at Bethel, and in possession of a master's degree in sociology from Northwestern University, Kaufman entered Yale Divinity School, where he studied with American theological giants Reinhold and, especially, H. Richard Niebuhr.

Kaufman's "growing convictions about the interconnection of theology and ethics" led him to seek ordination as a Mennonite minister in 1953. This took place in Kaufman's home congregation of Bethel College Mennonite Church as Dorothy and Gordon (who was A.B.D., having completed his Ph.D. coursework) were traveling across the country from New Haven to Claremont where Kaufman would take up his first teaching position at Pomona College. He asked for ordination, he said, because "I wanted to speak and write as an authorized interpreter of a Mennonite understanding of Christian faith and life."

Although Kaufman may not have been seen in that light by most Mennonites, there are also those who believe he fulfilled what he saw as his calling.

"I'm convinced," says Duane Friesen, "that [Kaufman's] passion was for God and he never, ever abandoned it. He understood God in very different ways from many. But [faith] is always supposed to show in how we live our lives, in ethics - that's what makes him so Mennonite. He constantly referred to himself as such."

In Why I Am a Mennonite, Kaufman cites several formative early experiences. Among them: being part of a minority Mennonite community within Newton; living on the Bethel College campus; and an encounter with a 7th-grade math teacher who insisted Jesus wasn't a pacifist and seemed "completely ignorant" of Jesus' "love your enemy" directives in the Sermon on the Mount.

In his chapter of Loewen's book, Kaufman cited a foundational principle, which he never lost, of life over belief for Christians. How one lived was a measure of one's faith. Moral values and moral performance take priority over truth-claims. The truth of Christians' "imaginative constructions" is finally to be tested in the quality of life those convictions bring forth.

Friesen relates a story that perhaps not many beyond Kaufman's circle of family and friends have heard before.

Kaufman was at home alone, Friesen says, and heard a noise on the back stairway that led from Gordon's part of the house to Gretchen's. "He saw a man going up, carrying a scythe he had taken from the unlocked garage, a scythe that had been inherited from [Kaufman's] Kansas family. Gordon got [the man] to come into his apartment and sit at the kitchen table. He talked to him and made him a sandwich. He got him to drop the weapon and allow Gordon to remove it, and talked him into lying down and taking a nap. Then Gordon asked him where he needed to go and could he help him get there?

"The person was cold, so Gordon gave him his jacket, and then he took him to Harvard Square. When Gretchen came home, she said, 'You've got to call the police.' He was finally convinced to do it for the man's sake - and it turned out he had come from a psych hospital across the street.

"You can tell a person's ethic," Friesen says, "what's ingrained in them, by how they respond instinctively. What he had learned from his family and community about nonviolence was played out here."

Friesen continues, "I'm convinced that Kaufman's God project [always] served ethics. Academia has an artificial separation between ethics and theology, but I didn't believe in that - it's why I had Gordon on my dissertation committee."

In his own writing and teaching, Friesen says he has "always felt very deeply that the primary emphasis of Christian faith should be on how we live, that our theological thinking and biblical study should serve that purpose and direct us toward living right lives. Also, [I believe] we need to take responsibility for the world outside us - the natural environment, social justice."

Gordon Kaufman's theology, Friesen says, meshes with that. "He always had a broader view - he treated issues of racial justice when he was at Vanderbilt and nuclear war as president of the American Academy of Religion. He was constantly asking the questions: How does religion affect the world and world issues? How do we address social issues and take responsibility for the world?

"It cut against the grain of some Mennonites," Friesen says, "who wanted to limit the church's responsibility toward the world."

Friesen continues, "Kaufman challenged my traditional notions and forced me to ask lots of questions that disturbed my preconceived ideas about God - which expanded and enlarged how I thought about God. I began thinking of God in terms of the cosmos and evolutionary biology, not only biblical history."

Friesen was in conversation with Kaufman until just before his death about including personal metaphors for God, rather than excluding them. "If God is creativity as Kaufman has set forth," Friesen says, "then it would seem possible that Kaufman could include the intentional creativity among humans as a metaphor for God. We will need to continue to work on that question without Gordon's presence."

The last years of Kaufman's doing and writing theology saw his shift from God as mystery to God as creativity - although perhaps "return to" might be more accurate. For example, Kaufman's former student Sarah Sentilles recounts her favorite, most treasured passage of Kaufman's writing from his 1975 publication An Essay on Theological Method, in which he says: "[T]he theologian is essentially an artist.... The finished product of the theologian's constructive work is not, like many works of art, essentially something external to the artist.... Rather this work of art is to be lived in: it is the very form and meaning of human life which is here being constructed and reconstructed."

"Gordon Kaufman helped me claim myself as an artist," Sentilles says, "and taught me to see the two vocations as connected." Some theologians, she says, are afraid to do that, fearing that it will relegate God to the imaginary and reduce theology to make-believe - a fear Kaufman wrote and taught against.

Kaufman's exploration of God as creativity is what helped build one of his last intellectual friendships, with Nancy Frey, who became pastor of the Mennonite Congregation of Boston in 2009.

"Gordon gave me a copy of Jesus and Creativity after I was hired," Frey says, "and invited me to read it to help see where the congregation was coming from."

Frey and her family moved to the Boston area following a decade as mission workers and Bible teachers in Benin, west Africa. Frey first engaged - though not directly - with Kaufman's writing while still in Africa. "I knew Gordon's work only secondhand," she says, "and based on what I had heard, I thought his theology was not in tune with the needs of three-quarters of the world."

However, when she read Jesus and Creativity (her first time reading Kaufman), "I really liked his emphasis on God as creativity. We shared the need for finding new metaphors for God. When I met with Gordon, we were pleasantly surprised how much we had in common."

Not long before Frey came to the Mennonite Congregation of Boston, Kaufman had been told he was exhibiting signs of Alzheimer's disease. "He enjoyed interacting with me because he could no longer do so with students," she says. "I would say I was getting free Harvard classes.

"He enjoyed engaging with people, asking questions and challenging them," she says. "He was a teacher at heart, interested in helping people experience their own [insights]."

She experienced Kaufman as "a deeply caring, kind, loving person. He was less and less able to go out, which was hard because he was so social."

She also saw him as "very concerned about the relevancy of the Gospel to our time. He was able to ask hard questions and not look for easy answers, to look at things most people were afraid of. He was courageous and interested in truth."

Although Kaufman spent "his entire career outside the Mennonite world," Frey says, "he was motivated by peace and by [Mennonites] being people of peace."

Because he had studied with H. Richard Niebuhr at Harvard and would likely have engaged with Niebuhr's equally influential brother, Reinhold, at Union Theological Seminary, Frey says, Kaufman was moved to "provide the world a theology that led to something other than a 'just war' conviction. He was a Mennonite Christian who sought to make that faith meaningful in a world spinning out of control after World War II and into the 1960s. He didn't want people to abandon it."

In a blog post that Mennonite theologian and teacher Ted Grimsrud wrote soon after Kaufman's death, Grimsrud called Kaufman and John H. Yoder "the two Mennonite theological giants in North America," both of whom had "huge impacts on my theology."

He believes "Yoder and Kaufman complement each other in important ways." The two never developed much of a relationship, he notes, which may have had to do with the fact that their paths rarely crossed: they grew up in different Mennonite traditions (General Conference Mennonite Church for Kaufman, Mennonite Church for Yoder) and worked at different schools in different fields. "I think, though," Grimsrud wrote, "that they must both be read, and each offers important correctives to the other one's thought.

"Yoder challenges Kaufman's tendency to diminish the biblical witness (though Kaufman certainly did value the Bible...). Kaufman challenges Yoder's tendency toward an authoritarian approach to the Bible and at least some Christian doctrines."

In the end, Grimsrud says, "what unites Yoder and Kaufman is that both were anti-authoritarian. Theology is something we must work at together, through conversation and in resistance to all the efforts in the Christian tradition to shut down the conversation through authoritarian appeals to 'settled' dogma. The priority is on the life and teaching of Jesus, not the later human generated creeds and dogmas.

"One major consequence of this priority is that authentic theology is at its [core] ethical, a unity of belief and practice. Both Kaufman and Yoder had their entire focus as theologians shaped by World War II. Both believed that that war showed the need more than ever before for peace-oriented theological reflection. The emphasis on theology being linked with peacemaking is the genius of the Anabaptist tradition and at this most important point, Kaufman and Yoder remain two of our most useful guides."
Sources
Personal interviews: Jesse Nathan, San Francisco, Jan. 3, 2012 (via phone); Duane Friesen, North Newton, Kan., Jan. 10, 2012; Nancy Frey, Boston, Jan. 12, 2012 (via phone)
John Dart, "Liberal theologian, mentor Gordon Kaufman dies at 86," The Christian Century, Aug. 4, 2011; http://www.christiancentury.org/article/2011-08/liberal-theologian-mentor-gordon-kaufman-dies-86
Katie Ford and Sarah Sentilles, "A Mentor Remembered," posted on the Harvard Divinity School website, Nov. 2, 2011; http://www.hds.harvard.edu/news-events/articles/2011/11/01/a-mentor-remembered
Ted Grimsrud, "Gordon Kaufman, R.I.P.," blog post from "Thinking Pacifism," July 24, 2011; http://thinkingpacifism.net/2011/07/24/gordon-kaufman-r-i-p/
Gordon D. Kaufman, "Apologia Pro Vita Sua," Chapter 12 in Why I Am a Mennonite: Essays on Mennonite Identity, Harry Loewen, ed. Scottdale, Pa.: Herald Press, 1988, 126-138.
______, "My Life and My Theological Reflection: Two Central Themes." The Conrad Grebel Review, Winter 2002, Vol. 20 No. 1, 60-89; originally published in American Journal of Theology and Philosophy 22 (January 2001); TCGR issue accessible at https://uwaterloo.ca/grebel/sites/ca.grebel/files/uploads/files/CGR-Winter-2002.pdf