If this site was useful to you, we'd be happy for a small donation. Be sure to enter "MLA donation" in the Comments box.
Wall, Harry David (1921-1954)
From Biograph
Mennonite Weekly Review obituary: 1954 Sep 30 p. 6
Birth date: 1921
text of obituary: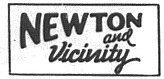 . . .
— One of two fatal accidents Tuesday night near Ulysses, Kansas claimed the life of Harry Wall, about 33 years of age, son of Mr. and Mrs. Peter Wall of the Buhler community. He was driving alone in his pickup truck south of Ulysses when it upset, pinning him in the wreckage. He had extensive farming interests in Tribune county. Besides the parents, he is survived by two brothers, Ervin Wall of Wichita and Robert Wall of Denver. A number of relatives live live [sic] in the Newton and Goessel communities.

Mennonite Weekly Review obituary: 1954 Oct 14 p. 9
The Mennonite obituary: 1955 Jan 4 p. 14