If this site was useful to you, we'd be happy for a small donation. Be sure to enter "MLA donation" in the Comments box.
Voth, Elisabeth Dueck (Dyck) (1885-1954)
From Biograph
Mennonite Weekly Review obituary: 1954 Jul 29 p. 6
Birth date:
text of obituary: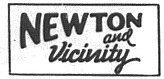 . . .
— Funeral services for Mrs. Elisabeth Voth, 69, wife of Henry S. Voth, were held Saturday forenoon at the First Mennonite church, Rev. D. J. Unruh and Rev. J. E. Entz officiating. Mrs. Voth passed away on her 69th birthday, Thursday, July 22, at the home of Mrs. Henry Epp on North Poplar Street, where she had been cared for during the past three months. The family lived near Goessel for a number of years before moving to Newton in 1932. In addition to her husband, she is survived by two sons, Waldo and Hilmar Voth of Newton; one daughter, Mrs. Ted Mayes of Wichita; a sister, Mrs. Katie Riesen of Hillsboro; and nine grandchildren.
---
Mennonite Weekly Review obituary: 1954 Aug 5 p. 9
MRS. H. S. VOTH
Elisabeth (Dueck) [Dyck] Voth our beloved wife and mother, was born July 21, 1885, in Marion county, Kansas on a farm four miles northeast of the Alexanderwohl church. Here she received her primary education in a district school. She was unfortunate to lose her father through death when she was three years old and as a child waited for him to come back some day and play with her. By her mother's marriage in 1897 she received a second father in Abraham Reimer and as father Reimer was custodian of the Alexanderwohl church they moved into a house near that church.
On May 31, 1903, she was baptized upon the confession of her faith in Jesus Christ her Redeemer and became a member of the Alexanderwohl church.
On Nov. 7, 1907, Henry S. Voth found a helpmate in her. Her favorite Bible verse was: "As for me and my house we will serve the Lord." She showed this in her daily walk through life.
For twenty-five years we lived on a farm two and three fourths miles south of Goessel. As the Tabor Mennonite Church was near our home we joined that church by letter Jan. 20, 1917.
In the year 1932 we moved to Newton, Kansas and joined the First Mennonite church in Newton by letter on April 22, 1935, of which she was a faithful member at the time of her death. She thought very much of the Mothers Sunday School class and liked so much to go to the Sunday school class meetings and the Mission Study Circle.
She enjoyed good health while living in Newton until the year 1947 when neuritis set in and she became crippled. Many prayers went up to the throne of God for her recovery and the Lord granted her a few years of somewhat better health after which time she had a set back. It was very hard for her to understand why she had to suffer so much. Thursday morning, July 22, at about five o'clock she fell asleep in Jesus. She now sees her Saviour in whom she has believed. While we knew that her time was short, her death came unexpectedly.
We shared life together for 46 years, eight months and 15 days and she died on the morning after her sixty-ninth birthday. We were blessed with four children. One daughter preceded her in death. She leaves to mourn her passing away, her bereaved husband, and her children, Mr. and Mrs. Waldo O. Voth, Mr. and Mrs. Hilmar T. Voth, Mr. and Mrs. Ted Mayes, one sister, Mrs. Fred B. Riesen, nine grandchildren and many relatives and friends.
We will miss her very much but we know she is now where then is no pain or sorrow.
—The bereaved husband and family.