If this site was useful to you, we'd be happy for a small donation. Be sure to enter "MLA donation" in the Comments box.
Vogt, Peter Samuel (1877-1954)
From Biograph
Mennonite Weekly Review obituary: 1954 Sep 16 p. 6
Birth date: 1877
text of obituary: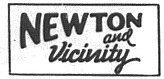 . . .
— Peter Samuel Vogt, who farmed in Garden township for many years, died at the Bethel deaconess hospital late Sunday at the age of 77. He had made his home in Moundridge since retiring about nine years ago. Funeral services were held Wednesday forenoon at the Garden Township Mennonite church, Rev. Victor Graber officiating. Surviving are his wife, the former Emma Auernheimer; one son and four daughters; and one sister, Mrs. Mary Baumgartner of Portland, Ore.

The Mennonite obituary: 1954 Oct 5 p. 624