If this site was useful to you, we'd be happy for a small donation. Be sure to enter "MLA donation" in the Comments box.
Unruh, Wilhelmine Schmidt (1871-1954)
From Biograph
Mennonite Weekly Review obituary: 1954 Jul 8 p.6
Birth date: 1871 Feb 24
text of obituary: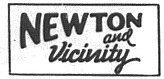 . . .
— Funeral services for Mrs. David S. Unruh, 83, were held Sunday afternoon at the Tabor Mennonite church, Rev. H. B. Schmidt officiating. She was born in South Russia on Feb. 24, 1871, and died at her home near Goessel Wednesday, June 30. Surviving are two daughters, Mrs. J. E. Schmidt and Mrs. Herman Martens of Newton; three sons, Ben of Peabody, David of Hillsboro and Henry of Newton; two brothers, one sister, 15 grandchildren and 11 great-grandchildren.
---
Mennonite Weekly Review obituary: 1954 Jul 15 p. 9
text of obituary:
MRS. DAVID S. UNRUH
Mrs. Wilhelmine (Schmidt) Unruh, daughter of Bernhard and Maria (Herrfort) Schmidt, was born Feb. 24, 1971 [sic 1871], in the village of Schardau, South Russia. She emigrated with her parents to America and arrived in Peabody, Kans. 77 years ago on July 4, 1877.
Her parents established their home three miles east of the Alexanderwohl church, where she experienced the trials of the pioneer days. She was baptized upon her confession of faith in Jesus Christ her Saviour in 1888, by Elder Jacob Buller and became a member of the Alexanderwohl Mennonite church. When the Tabor church was organized she joined the same as a charter member or Jan. 21, 1909.
She was married to David S. Unruh on Jan. 15, 1896, with whom she shared joys and sorrows for 50 years, six months and nine days. To this union were born six children, four sons and two daughters. One son, Jacob, preceded her in death on March 7, 1902. Father died July 24, 1946. She lived in widowhood for eight years. A son-in-law, Jacob E. Schmidt, also preceded her in death on May 9, 1949.
In the last few years her health began to fail. In March, 1953 she underwent an operation from which she seemingly recovered. In January of this year she complained of pains which the doctor diagnosed as cancer and she grew steadily weaker. She was bedfast about 12 days and passed away June 30, 1954 at 7:50 p.m. She reached the age of 83 years, four months and six days. She leaves to mourn her death Bernhard and family of Peabody; David and family of Hillsboro; Maria, Mrs. Jacob E. Schmidt and daughter; Henry and family; Minnie, Mrs. Herman Martens and family, all of Newton. She became grandmother of 15 grandchildren, of whom three preceded her in death and great-grandmother of 11 children. She also leaves two brothers, B. H. Schmidt, Newton, and H. B. Schmidt, Peabody; one sister, Maria, Mrs. H. J. Rose, Goessel; three brothers-in-law and nine sisters-in-law and many relatives and friends.
Funeral services were held at 3:00 p.m. July 4, 1954. Rev. H. B. Schmidt brought the message. Burial was made in the Tabor Mennonite church cemetery.