If this site was useful to you, we'd be happy for a small donation. Be sure to enter "MLA donation" in the Comments box.
Unruh, John T. (1892-1954)
From Biograph
Mennonite Weekly Review obituary: 1954 Sep 23 p. 6
Birth date: 1892 Oct 5
text of obituary: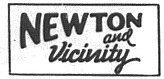 . . .
— Relatives in Kansas received word Tuesday of the sudden death of John T. Unruh, 60, at Breckenridge, Minn. He is survived by two brothers, Noah T. Unruh of Halstead and Enoch Unruh of Galva. Funeral services are to be held Sunday afternoon at the Grace Mennonite church near Halstead, Rev. Carl Dirks and Rev. Paul Becker in charge. Mr. Unruh had been employed in San Francisco, Calif, as a shipbuilder for a number of years, and more recently had been a section foreman for the Northern Pacific Railroad.
---
Mennonite Weekly Review obituary: 1954 Sep 30 p. 9
text of obituary:
JOHN T. UNRUH
John T. Unruh, son of Tobias and Maria Unruh, was born near Halstead, Kansas on Oct. 5, 1892, and passed away at Brushvale, Minn. on Sept. 14, 1954. He reached the age of 61 years, eleven months and nine days.
While at home with his parents they lived at various places. When he was ten years of age they moved to Coy, Okla. He spent several years in McPherson county, Kansas, where he remembered his Creator by yielding his heart and life to the Lord, and upon the confession of his faith, was baptised on April 30, 1922, becoming a member of the Church of God in Christ, Mennonite.
In 1926 he went to Monetzuma,[sic Montezuma] Kansas and made his home with his sister Mrs. Eva Unruh, farming while in that community.
After the death of his sister, he left Montezuma and came to Halstead for a short stay with his brother, Noah T. Unruh. In 1941 he left Kansas and went to Minnesota, and from there on to California where he worked in the shipyards. In 1945, he went to Brushvale, Minn. where he was employed by the Northern Pacific Railroad. Tuesday afternoon, Sept. 14, at two o'clock, while at work, he had a heart attack and quietly passed away without saying a word.
John's life was not all sunshine. He encountered many trials and tests which often made him feel discouraged. At various times he would acknowledge and confess his failing; he strove to do the best he could. John was tender hearted and possessed a friendly disposition, which won him many friends.
He leaves to mourn his sudden passing two brothers, Enoch of Galva, Kansas and Noah of Halstead, Kans., nephews and nieces and many other relatives and friends. His parents, four brothers and two sisters preceded him in death.
Funeral services were held in the Grace Mennoite [sic Mennonite] church of Halstead on Sunday afternoon, Sept. 19,1954, at 3:30 o'clock with Rev. Carl Dirks as the officiating minister. He-was assisted by Rev. Paul Becker, Rev. Arnold Wiggers and Rev. Kenneth Smith. The Grace Mennonite church choir sang ''No Friend Like Jesus" in the home and in the church they sang, "Rock of Ages," "Teach Me The Measure of My Days" and "Shall We Meet Again." For the commital [sic] services, they sang "We are Going Down the Valley."
Funeral arrangements were in charge of the directors of the Kaufman Funeral home. Casket bearers were: Dan C. Buller, J. J. Unruh, Ruben Koehn, John Koehn and Menno Dirks. He was laid to rest in the family lot in the Halstead cemetery.