If this site was useful to you, we'd be happy for a small donation.
Thierstein, Christian (1870-1953)
From Biograph
Mennonite Weekly Review obituary: 1953 Oct 15 p. 6
Birth date: 1870 Dec 17
text of obituary: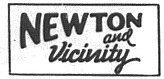 . . .
— Christian Thierstein, 82, well known pioneer and retired farmer of the Whitewater community, died Monday afternoon at the Bethel Deaconess hospital where he had been a patient since Sept. 3. Funeral services are to be held at 2:00 o'clock Thursday afternoon at the Emmaus Mennonite church, of which he was a member.
---
Mennonite Weekly Review obituary: 1953 Oct 29 p. 9
text of obituary:
CHRISTIAN THIERSTEIN
Christian Thierstein, our father, son of Samuel and Katharina Mosiman Thierstein, was born on Dec. 17, 1870, in Bowyl, Canton Berne, Switzerland.
In the spring of 1883 he came to America with his-parents, three brothers and two sisters, settling near Sombro Falls, Minn. In October 1883 they moved to Kansas, settling on a farm one-half mile south of Brainerd.
On May 21, 1888, he was baptized upon confession of faith in Jesus Christ as his personal Saviour; he was received as a member into the fellowship of the Emmaus Mennonite church of which he remained a faithful member until his death.
On Nov. 10, 1898, he was married to Margarethe Bergmann. Together they shared life's joys and sorrows for nearly 47 years. To this union were born two children, Christian B. and Samuel T. Leona joined the fellowship of the family at the age of ten years. Mother was first to break the family circle as she quietly went to her eternal reward on Jan. 10, 1945.
Father entered into his rest or Oct. 12, 1953. So ends a full and abundant life of four score and nearly three years. This body has returned to dust, but the spirit of a life that was transformed by the power of God into salvation goes as a challenge to us all, to live closer to our precious Jesus. The all sufficient Saviour was the motivating power that changed this life. Being a great lover of music, he sang many songs of praise unto God. Many were the opportunities that were used to testify to the love of Jesus in his daily walk.
Several years ago father felt the burden of the distressed brethren in Europe. As a faithful steward he shared his material blessings with those across the sea. Much joy filled the sunset of his life by being able to welcome into his home our relatives, Mrs. Anna Friesen, Mrs. Trude Friesen and her children, and Miss Heidi Friesen. He greatly appreciated Aunt Anna's faithful care in his home.
Surviving are the C. B. Thierstein family, Whitewater, Kansas; the Samuel T. Thierstein family, Lincoln, Nebraska; the Herbert Thiessen family, Whitewater, Kansas. Included in this family are ten grandchildren and one great-grandchild. Also one sister, Mrs. Mary Klaassen, survives. Preceding him in death were his parents, his wife, Margarethe, three brothers, John, Ulrich, and Samuel, and one sister, Mrs. Elizabeth Claassen.
Funeral services were held Oct. 15, at 1:15 in the home at Brainerd and at 2:00 p.m. at the Emmaus Mennonite church near Whitewater. The service in the home was conducted by Rev. H. J. Dyck and Rev. J. E. Entz, and a number was sung by a men's quartet. At the church his pastor, Rev. Walter H. Dyck, led the service assisted by Rev. Ted Roth. There was music by a mixed octet and two soloists, Novalis N. Toews and Lowell Hagen. He was laid to rest in the Emmaus cemetery.

The Mennonite obituary: 1953 Nov 10 p. 704