If this site was useful to you, we'd be happy for a small donation.
Thierstein, Christian (1870-1953)
From Biograph
Mennonite Weekly Review obituary: 1953 Oct 15 p. 6
Birth date: 1870 Dec 17
text of obituary: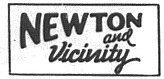 . . .
— Christian Thierstein, 82, well known pioneer and retired farmer of the Whitewater community, died Monday afternoon at the Bethel Deaconess hospital where he had been a patient since Sept. 3. Funeral services are to be held at 2:00 o'clock Thursday afternoon at the Emmaus Mennonite church, of which he was a member.

Mennonite Weekly Review obituary: 1953 Oct 29 p. 9
The Mennonite obituary: 1953 Nov 10 p. 704