If this site was useful to you, we'd be happy for a small donation. Be sure to enter "MLA donation" in the Comments box.
Suderman, David H. (1909-1990)
From Biograph
Mennonite Weekly Review obituary: 1990 Jul 12 p. 7
Birth date: 1909
text of obituary:
Former Bethel College Music Prof., Who Taught 40 Years, Dies at 81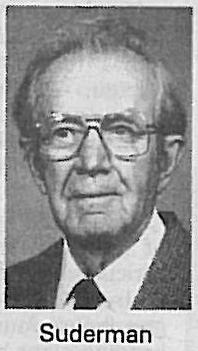 NORTH NEWTON, KAN.—David H. Suderman, professor of music at Bethel College from 1936 to 1976, died July 4 at Kidron Bethel Retirement Home. He was 81.
Suderman was a leader in Christian higher education, music education and international music exchange and enrichment. He was the founding director of the Kansas Mennonite Men's Chorus.
He grew up on a farm near Hillsboro, attended Tabor College in Hillsboro and graduated from Bethel with a music degree in 1935. After earning a master's degree in music education from George Peabody College, Nashville, Tenn., in 1936, he was invited to teach at Bethel.
In 1937 he married Alice Claassen. She was a vital participant in her husband's professional career, serving frequently as a tour planner and assistant in many choir tours. She died April 7.
During World War II, Suderman was a Civilian Public Service camp director and Rocky Mountain regional director. In 1946 he returned to Bethel and remained an active music teacher until his retirement in 1976. He earned a doctorate in music education from George Peabody College in 1947.
Suderman was a Fulbright Choral Lecturer in Colombia for two years in the mid-1960s. He led Bethel music group tours to Colombia in 1968, 1971 and 1973. His chorale was one of four U. S. choirs invited to Vienna, Austria, in 1975 for a festival and performance with the Vienna Philharmonic.
He spent two three-month sessions in music training with Paraguayan Mennonites. After retirement, the Sudermans gave three years to developing a music program at a Mennonite seminary in Paraguay.
Suderman also was active with the Western District Conference (GC) music committee, as a church choir director and as founder and director of the Golden Age Singers.
He was a member of Bethel College Mennonite Church. He received the Bethel College's Outstanding Alumnus Award in 1984.
Graveside services were held July 7 at Ebenfeld Mennonite Brethren Church. A memorial service was held July 7 at the Bethel College Church, with Darrell Fast officiating.
Survivors include two daughters, Ann Dunn and her husband, James, of Hesston, and Judy Rios and her husband, Daniel, of San Antonio, Texas; three brothers, John and Levi of Hillsboro and Edwin of Shell Nob, Mo.; a sister, Vera Harder of Hillsboro; and three grandchildren.

The Mennonite obituary: 1990 Aug 14 p. 352