If this site was useful to you, we'd be happy for a small donation. Be sure to enter "MLA donation" in the Comments box.
Regier, Jacob E. (1889-1954)
From Biograph
Mennonite Weekly Review obituary: 1954 May 27 p. 3
Birth date: 1889 Feb 27
text of obituary:
Newton Businessman Called By Death
JACOB E. REGIER HAD SERVED ON COLLEGE AND HOSPITAL BOARDS
Funeral services for Jacob E. Regier, 65, well known Newton business man and a member of the Bethel Deaconess Home and Hospital board of directors, were held Wednesday forenoon in the Sister Frieda Memorial Chapel. Rev. Harold Buller, his pastor, and Rev. J. N. Smucker of Chicago facilitated.
Mr. Regier, who was president of the Regier Loan and Abstract company here, was stricken suddenly with a heart attack last Saturday afternoon in Topeka, where he and Mrs. Regier had gone to spend the week end with relatives. He died early Sunday May 23, in a Topeka hospital.
He was born Feb. 27, 1889, to Jacob H. and Marie (Claassen) Regier on a farm east of Newton. In 1911 he joined his brothers, J. G. and W. W. Regier, in the loan and abstract business in which he remained active until his death. Over the years the company has served a number of Mennonite institutions and churches in this area.
Mr. Regier had been a member of the Bethel College congregation since 1915 and formerly served on various conference boards as well as the Bethel College board.
He is survived by his wife, the former Lulu Wright; two daughters, Mrs. Andrew Douglass of Newton and Mrs. Jack Stirling of Longmont, Colo.; one son, Max, of Newton; two brothers, Dr. Henry L. of Kansas City and Gustav P. of Newton; two sisters, Mrs. Anna Suderman and Miss Joanna Regier, both of Newton; and eight grandchildren.
---
Mennonite Weekly Review obituary: 1954 Jul 29 p. 6
text of obituary: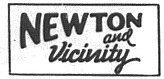 . . .
The will of J. E. Regier, president of the Regier Loan and Abstract company until his recent passing, filed recently in Harvey County probate court; hows total assets of $80,000 including $65,000 in real property and $15,000 personal property. The will provides that Mrs. Lulu Regier, wife of Mr. Regier, is to have a life interest in the estate.