If this site was useful to you, we'd be happy for a small donation. Be sure to enter "MLA donation" in the Comments box.
Ratzloff, Gerhart (1917-1954)
From Biograph
Mennonite Weekly Review obituary: 1954 Sep 30 p.6
Birth date: 1917 Sep 12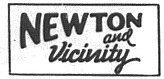 . . .
text of obituary:
— Funeral services were held at the West Zion church, Moundridge, last Friday afternoon for George Ratzloff, 37, who died unexpectedly early Wednesday, Sept. 22, at the Bethesda hospital in Goessel. He became ill the evening before while attending a wedding and was taken to the hospital by his wife. An employee of the Joe Goering Chevrolet company in Moundridge he is survived by his wife and four children, Philip, 12, Gloria 10, Geraldine 8, and Donald 6, all of the home. A brother, Harry, resides in Newton.
---
Mennonite Weekly Review obituary: 1954 Oct 7 p. 9
text of obituary:
GERHART RATZLOFF
Gerhart Ratzloff, son of William and Anna Martens Ratzloff, was born on a farm near Goessel, Kansas on Sept. 12, 1917. In his early childhood his parents moved to a farm near Lehigh, Kansas. There he attended elementary and high school. After graduation from Lehigh high school he studied two years in a business college in Hutchinson, Kansas.
On April 6, 1941, he was united in marriage to Susie Hiebert. They made their home in Hutchinson where he attended school and worked for several concerns. In 1945 they moved to Lyons, Kansas where he was employed as a bookkeeper for the Chevrolet company. Since 1949 they have made their home in Moundridge where he continued his work as an accountant for the Joe Goering Chevrolet Company and also served as an income tax adviser. Their home was blessed with the birth of four fine children, who were a source of great joy to him.
He was baptized upon the confession of his faith in Jesus Christ on Sept. 8, 1935, by Rev. John Plenert and was received into the membership of the Johannesthal Mennonite church near Hillsboro, Kansas. Later he transferred his membership to the First Mennonite church of Hutchinson, Kansas. Since 1953 he has been an active member in the West Zion Mennonite church, Moundridge, Kansas. he was interested in the work of Christ and the Church and often expressed his concern for dedicated Christian living.
Since early youth he had contended with an above normal blood pressure. In recent years he had received some special medical treatment. However, he was always active and quietly carried on his work. On Tuesday, Sept. 21, he was still at his work and reflected a healthy, jovial spirit. That evening, while attending the wedding of a niece near Hillsboro, he felt an attack of severe headache. The same evening he was taken to the Bethesda hospital, Goessel, where early on Wednesday morning he passed away to his heavenly home. His death was due to a heart attack. He reached the age of 37 years and 10 days.
He was a loving husband and father. His quiet, patient disposition will long be remembered in the home. He loved good music and took great delight in reading. His family was close to his heart as he helped build an intimate Christian family life.
He leaves to mourn his all too early departure his loving wife; four children, Philip, 12, Gloria, 10, Geraldine, 8, and Donald, 6; his father, William of Hillsboro; four brothers, Fred and wife Elvina of Ringwood, Okla., Ben and wife Elsie of Hillsboro, Sam and wife Hilda of Lehigh, Harry and wife Helen of Newton; two sisters, Anna (Mrs. Albert Frantz) of Tampa, and Olga (Mrs. Olga Nickel) of Hillsboro; and a host of other relatives and friends. His mother, one brother, four sisters, and one brother-in-law preceded him in death.
Though our hearts are saddened by this physical separation, yet, we rejoice in the hope that father is at Home with the Lord. His influence and benediction will ever be with us. We mourn but not as those without hope.
The funeral service was held in the West Zion Mennonite church, Moundridge, on Sept. 24, 1954. Rev. Roland Goering and Rev. Harris Waltner officiated.