If this site was useful to you, we'd be happy for a small donation. Be sure to enter "MLA donation" in the Comments box.
Pankratz, John P. (1869-1954)
From Biograph
Mennonite Weekly Review obituary: 1954 Jul 22 p. 6
Birth date: 1869 Nov 25
text of obituary: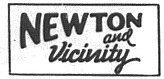 — John P. Pankratz, pioneer farmer of the Goessel community, died at the family homestead northwest of Goessel Sunday morning at the age of 84. Funeral services were held Tuesday forenoon at the Goessel Mennonite church, conducted by Rev. Leo Miller and Rev. Ed Stucky. Born in Russia, Mr. Pankratz came to this country with his parents at the age of five. He is survived by his wife, the former Anna Sommerfeld, four children, 11 grandchildren and two great-grandchildren.
---
Mennonite Weekly Review obituary: 1954 Jul 29 p. 9
text of obituary:
JOHN P. PANKRATZ
John P. Pankratz, our father, son of Peter and Elisabeth Goertz Pankratz, was born Nov. 25, 1869, in the village of Steinbach, South Russia. He died July 18, 1954, attaining the age of 84 years, seven months and 23 days.
At the age of five years he emigrated with his parents to the United States, settling in Marion county, Kansas, about five miles north of Goessel, in which locality he lived the remainder of his life. The experiences of the pioneer years remained deeply impressed on his memory. He supplemented his dictrict [sic] school education by attending a term at Elder Peter Balzer's private school. Since the atmosphere at this school was predominantly religious, he always valued whatever he had received in a spiritual way at this school.
He was baptized on the confession of his faith June 10, 1889, by Elder Jacob Buller and became a member of the Alexanderwohl church. He took his baptism seriously. It was to him a sign of the covenant he had made with God. When the Goessel Mennonite church was organized he transferred his membership to that church.
He was of a cheerful disposition, looking as much as possible at the bright side of life. However, by nature he was religiously inclined so that in his conversation he liked to allude to Biblical incidents. His desire was to live up to the admonition of the Apostle Paul, to lay hold of eternal life.
He was married to Anna Sommerfield Oct. 31, 1897. To this union were born seven children, three sons and four daughters. Two sons, Arnold and Werner, and one daughter, Clara, Mrs. Peter H. Penner, preceded him in death. The passing of the latter was a sad experience to the family.
In 1947 the parents had the rare privilege of celebrating their golden wedding anniversary.
The departed was troubled a number of years by asthma, but took seriously ill Oct. 6, 1933, when he suffered a stroke. His sickness was such that death could be expected at any time, but he recovered sufficiently so that he could be taken home from the hospital and be taken care of at home. He lingered on till Sunday, July 18, at 10 a.m. somewhat unexpectedly he fell softly asleep to be with his Lord forever.
He read his Bible diligently and attended church punctually, being a Sunday school teacher for a number of years. His faith was firmly founded on the merits of Jesus Christ which helped him to testify of the assurance of his salvation.
There remain to mourn his departure his wife, Anna; one son, John H. and wife Vivian; one son-in-law, Peter H. Penner; three daughters, Bertha and husband Harlan S. Lippert, Hulda and Margaret of the home. To the departed also belong nine grandchildren and two great-grandchildren, four brothers and one sister, three brothers-in-law and 12 sisters-in-law, nieces and nephews and many friends.
We sorrow but not as those who have no hope.
Funeral services were held at the Goessel Mennonite church on July 20. Rev. Leo Miller spoke on II Cor. 5:17, and Rev. Edwin Stucky on John 2:15 and Psalm 121. A men's quartet sang at the church service and also at the graveside.