If this site was useful to you, we'd be happy for a small donation. Be sure to enter "MLA donation" in the Comments box.
Nikkel, Kathryn Ensz (1892-1954)
From Biograph
Mennonite Weekly Review obituary: 1954 Aug 19 p. 6
Birth date: 1892 Feb 15
text of obituary: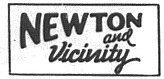 . . .
— Mrs. Kathryn Nikkel, 62, wife of Peter M. Nikkel of Route 2, Inman, died at the Bethel Deaconess hospital early Monday morning after a brief illness. She was a member of the Church of God in Christ, Mennonite, and funeral services were to be held Thursday forenoon at the Zion church near Inman, with John A. Ensz, A. R. Toews and Irvin Harms officiating. In addition to her husband, she leaves five daughters, three sons, 21 grandchildren and 13 brothers and sisters.
---
Mennonite Weekly Review obituary: 1954 Sep 2 p. 9
text of obituary:
MRS. KATHERINE [sic KATHRYN] NIKKEL
Katherine [sic Kathryn] Nikkel (nee Ensz), daughter of Abraham G. and Margaret Ensz, was born Feb. 15, 1892, near Inman, Kansas, and passed away at the Bethel Deaconess hospital, Newton, Kansas on Aug. 16, 1954 at 3:45 a.m., reaching the age of 62 years, six months and one day.
She grew to womanhood and received her education in the Inman community. The spirit of God convicted her of her lost condition, she repented and found forgiveness of her sins. Upon the confession of her faith she was baptized on March 27, 1910, by Elder John D. Dyck, and was added to the Church of God in Christ Mennonite, of which she remained a faithful member to the end.
On May 16, 1915, she was united in marriage to Peter M. Nikkel, her now deeply bereaved husband. They shared joys and sorrows for 38 years and three months.
To this union eight children were born, three sons and five daughters, all of whom are married. She was a loving and devoted wife and mother, a real helpmeet to her husband. With patience and wise counsel she reared the children. We have lost a praying mother who had a deep concern that some day she with all her loved ones would be saved.
The first three years we lived at Hillsboro, Kansas, then moved to Inman, Kansas, where we lived until her departure.
She enjoyed fairly good health until recently, when her health began to fail. We sought medical aid, but on Aug. 9 she suffered a severe stroke, after which she spoke only a few words. She was immediately hospitalized and the best of care was given her, but without avail. She fell into a coma and remained that way. After six days of suffering, she quietly and peacefully fell asleep on Monday, Aug. 16, at 3:45 a.m. We fully believe mother is now resting in the arms of Jesus.
Her sudden departure gives us deep thoughts, for we need her greatly, but our heavenly Father saw best to take her to Him, where she now is resting from all her labors.
She leaves to mourn her departure her deeply bereaved husband; the children, Mr. and Mrs. Irvin Nikkel of Conway, Kansas, Mr. and Mrs. Abe Nikkel of Inman, Kansas, Mr. and Mrs. Joba [sic Jona] Nikkel, Margaret, Mrs. P. G. Friesen, and Lena, Mrs. Harvey Becker, all of Marquette, Kansas, Elda, Mrs. Albert Friesen of Crawley [sic Crowley], Colo., Edna, Mrs. Alfred Isaac of Moundridge, Kans., and Darlene, Mrs. Franklin Giesbrecht, who are in alternative service at Baltimore, Maryland; three daughters-in-law, five sons-in-law, 21 grandchildren, seven brothers, six sisters, and a host of relatives and friends.
Her father and mother, one brother and two grandchildren preceded her in death.
Funeral services took place Aug. 19 at 9 a.m. at the home, and 10 a.m. at the Zion church with Min. Abe Toews and Min. Irvin Harms in charge. Min. Harms brought the message after which Min. Harry Wenger spoke a few words of comfort. The remains were laid to rest in the nearby cemetery. — Father and Children.