If this site was useful to you, we'd be happy for a small donation. Be sure to enter "MLA donation" in the Comments box.
Miller, Barbara Ewy (1868-1954)
From Biograph
Mennonite Weekly Review obituary: 1954 Jul 1 p. 6
Birth date: 1868
text of obituary: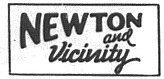 . . .
— Funeral services for Mrs. Barbara Miller, 86, widow of John Miller were held Sunday afternoon at the First Church of Christian, Moundridge, in charge of Rev. Ed. Miller and Rev. P. P. Wedel. Mrs. Miller, who lived on Route 1, Hesston for a number of years, passed away June 23 at the Bethel Home for Aged where she had lived for the past seven years. Surviving are a daughter, Mrs. E. D. Miller of Hanston; two sons, Arnold and Ernest of Hesston; a brother, J. J. Ewy of Moundridge; and three sisters, Mrs. Fred Rutschman of Newton, Mrs. Pete Sperling and Mrs. Gus Ewy of Moundridge.