If this site was useful to you, we'd be happy for a small donation. Be sure to enter "MLA donation" in the Comments box.
Krehbiel, Henry (1884-1954)
From Biograph
Mennonite Weekly Review obituary: 1956 Sep 9 pl. 5
Birth date: 1884
text of obituary: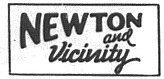 . . .
Henry Krehbiel, well known Moundridge hardware dealer, died suddenly at his home there on Monday at the age of 70. Funeral services were to be held Wednesday forenoon at the Eden Mennonite church. He leaves his wife and two sons, Floyd of Moundridge and Clayton of Lawrence.