If this site was useful to you, we'd be happy for a small donation. Be sure to enter "MLA donation" in the Comments box.
Ewy, Peter Fred (1899-1954)
From Biograph
Mennonite Weekly Review obituary: 1954 Aug 19 p. 6
Birth date: 1899 Mar 20
text of obituary: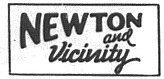 . . .
— Funeral services for Peter F. Ewy, 55, retired farmer and a lifelong resident of Harvey county, were held Friday forenoon, Aug. 13, at the Garden Mennonite church near Hesston. He died Tuesday at the home of his daughter, Mrs. Raymond Neufeld, in Garden township. Also surviving are a brother, John O. of Pasadena, Calif.; two sisters. Mrs. John Friesen of Pasadena and Mrs. Dave Friesen of Portland, Ore.; and three grandchildren. Albina Unruh Ewy, his wife, died in 1933.
---
Mennonite Weekly Review obituary: 1954 Sep 2 p. 9
text of obituary:
PETER FRED EWY

Peter Fred Ewy, our father, was born March 20, 1899 on a farm three and one-half miles west of Hesston, Kansas, the son of Henry and Susanna (Ortman) Ewy. He answered the call to his heavenly home from the home of his daughter, Mrs. Raymond Neufeld, on Tuesday, Aug. 10, 1954, at 7:50 a.m., having suffered from multiple sclerosis. He attained the age of 55 years, four months, and 21 days.

He lived in Harvey county his entire lifetime. He spent his boyhood days and grew to manhood on a farm near Hesston, attended grade school at the Emma Grove Dist. 12 and graduated from Riverside Dist. 25. On May 9, 1915, he was baptized upon his confession of faith in the Lord Jesus as his personal Saviour by Rev. William Galle, and was received into the membership of the Garden Mennonite church of Garden Township where he remained a faithful member.

On Aug. 5, 1923, he was joined in holy matrimony to Albina Unruh, by Rev. H. T. Unruh. They began life together on a farm one-half mile north and one-half mile west of the church. To this union was born one daughter, Lurena Maxeen. After 10 short but happy years God saw fit to call from his side his faithful wife, on August 19, 1933. This left him with the added responsibility of being also a mother to his only child. After the death of his wife he moved to the old home place, one-half mile east of the Harvey County Park.

Father loved to read his Bible and always endeavored to show forth a fine Christian spirit which won him many friends.

Besides his wife, his father, mother, step-mother (Mrs. Matilda Unruh Ewy), one infant brother, and one sister, Elizabeth Ewy Bachman, preceded him in death.

His health began to fail about nine years ago but he was able to continue his farm work until six years ago when he came to live with his daughter and her family. For the past two years he was confined to his bed. Father was very patient through these years of failing health. His firm faith in the Lord Jesus gave him grace to face these trying years. We thank our Heavenly Father that He did not permit father to suffer any pain. He always welcomed visitors, even to the very last. During the time that he was unable to attend church services he enjoyed the church services over the radio and found new strength in the Word. Arrangements were completed to have him admitted to the hospital Tuesday morning at 9:30, but the Lord saw fit to call him home before these plans were fulfilled.

He leaves to mourn his departure, one daughter and her husband, Mr. and Mrs. Raymond Neufeld; three grandchildren, Nancy Jo, Joan Marie, and Raymond Gene; one brother, John O. Ewy, Pasadena, Calif.; two sisters, Mrs. John Friesen, Pasadena, Calif., and Mrs. Dave Friesen, Portland, Oregon; two brothers-in-law, Adolph Unruh, St. Louis, Mo., and Albert Unruh, Irvington, Calif.; two uncles, Fred Ortman, Moundridge, Kansas and Henry Ortman, Salem, Oregon, and a host of friends and relatives.