If this site was useful to you, we'd be happy for a small donation. Be sure to enter "MLA donation" in the Comments box.
Esau, Marie Martens (1864-1954)
From Biograph
Mennonite Weekly Review obituary: 1954 Jul 22 p. 6
Birth date: 1864 Jan 3
text of obituary: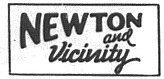 . . .
— Mrs. Mary Esau, 90 year-old-resident of the Bethel Home for Aged, died at the home Thursday morning, July 15. Funeral services were held at the Emmaus church near Whitewater Saturday morning, conducted by Rev. Walter H. Dyck and Rev. H. J. Dyck of Elbing. Born in Germany, she came to America in her youth and after marriage to Abr. Esau lived on a farm near Brainard for many years.
---
Mennonite Weekly Review obituary: 1954 Jul 29 p. 9
text of obituary:
MARIE MARTENS ESAU
Marie Martens Esau was born January 3, 1864, at Schoenewiese, West Prussia, Germany. Her parents were Cornelius and Elizabeth Martens, nee Penner, of Rosenkranz, West Prussia.
She attended school in Weisenberg. Through the influence of Christian parents she had a desire to open her heart to the Lord. She received instruction under Elder David Ewert of Tragheimerweide, where she was baptized on confession of her faith in Jesus Christ and was received as a member of that church on Pentecost Day, 1882.
At the age of 19 she entered service as a maid in the home of the Claassen family. Here she served faithfully. When this family left their home near Gross Lichtenau to settle at Beatrice, Nebr. in 1892, she came with them. She remained in this home until her marriage.
On Feb 13, 1894 she was united in marriage to Abraham Esau, who lived on a farm near Whitewater, Kans. Here she became a member of the Emmaus church. She was a faithful and helpful companion to her husband.
In 1902 they sold their farm and journeyed to Germany to visit relatives and friends. On their return they lived at Brainard, Kansas where they shared joys and sorrows until her husband passed away Oct. 14, 1924.
At the time of his passing, her brother, Johann Martens, came from Germany. She opened her home to him until the time of his death in 1937. The following year she suffered a stroke and had to leave her home. The Wiens sisters of Newton, Kans. cared for her until 1942, after which she spent several months in the Bethel Home for the Aged. Anna and Agatha Andres then took her into their home where she also received loving care until she entered Axtell hospital due to a minor accident. The past year she had been in the Bethel Home at Newton where she passed away July 15, 1954, reaching the advanced age of 90 years, six months and 12 days.
"For this God is our God for ever and ever: he will be our guide even unto death." Psalm 48: 14.
Rev. H. J. Dyck and Rev. Walter H. Dyck officiated at the funeral services.