If this site was useful to you, we'd be happy for a small donation. Be sure to enter "MLA donation" in the Comments box.
Buhler, Margaret (1881-1954)
From Biograph
Mennonite Weekly Review obituary: 1954 Sep 30 p. 6
Birth date: 1881
text of obituary: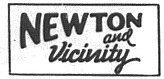 . . .
— Mrs. Margaret Buhler, 73, longtime resident of Buhler who had been living at the Bethel Home here, died Monday evening at the Bethel Deaconess hospital. She was a member of the Hebron Mennonite church, and is survived by six brothers and three sisters. Mrs. P. W. Enns of Newton is a sister-in-law.