If this site was useful to you, we'd be happy for a small donation. Be sure to enter "MLA donation" in the Comments box.
Baumgarten, Randall (1949-1954)
From Biograph
Mennonite Weekly Review obituary: 1954 Jul 15 p. 6
Birth date: 1949
text of obituary: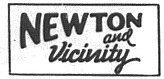 . . .
— Friends here were saddened to hear of the death last Friday of Randall Baumgarten, five-year-old son of Mr. and Mrs. Edwin Baumgarten of Buhler. The boy was killed and his mother injured when the car Mrs. Baumgarten was driving overturned in loose gravel on a road east of Buhler. The car rolled over twice and both Mrs. Baumgarten and the boy were thrown from the vehicle. Funeral services for Randall were held Monday forenoon at the Buhler Mennonite church. Rev. Irvin Richert was in charge.