If this site was useful to you, we'd be happy for a small donation. Be sure to enter "MLA donation" in the Comments box.
Abrahams, Henry H. (1885-1957)
From Biograph
Mennonite Weekly Review obituary: 1957 Oct 31 p. 6
Birth date: 1885
text of obituary: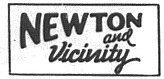 . . .
— Henry H. Abrahams, 72, retired farmer of the Inman community, died at the Mercy Hospital in Moundridge on Oct. 24. Funeral services were held Saturday afternoon at the Inman Mennonite Church, Rev. Ben Rahn and Rev. Arnold Ensz officiating. He leaves his wife, Maria; one daughter, Mrs. Virginia Robinson of Chanute; four sisters and three brothers.