If this site was useful to you, we'd be happy for a small donation.
Hershberger, W. Raymond (d. 1954)
From Biograph
Mennonite Weekly Review obituary: 1954 Feb 4 p. 6
Birth date: 1902 May 11
text of obituary: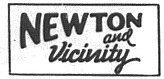 . . .
— Word was received here of the death of Rev. Raymond Hershberger, Garden City, Mo., who passed away Wednesday, Jan. 27, after suffering a stroke of paralysis several days earlier. Mr. and Mrs. O. O. Hershberger, Mr. and Mrs. Charles Greaser and Mrs. Nancy Zook of Hesston went to Garden City to attend the funeral services of their brother, held on Saturday.
---
Mennonite Weekly Review obituary: 1954 Feb 11 p. 9
text of obituary:
W. RAYMOND HERSHBERGER
W. Raymond Hershberger was born May 11, 1902, near Garden City, Mo., and passed away at the age of 51 years, eight months and 16 days, on January 27, 1954. On January 23 he was taken to the Wetzel hospital in Clinton, Mo., due to a cerebral hemorrhage, from which he never regained consciousness prior to his death.
In his youth he accepted Christ as his Saviour and became a member of the Sycamore Grove church, near Garden City, where he served the church and his Lord during his entire lifetime. He assisted in Sunday school as teacher and superintendent for a number of years until he was ordained to the ministry on April 9, 1939. Two years later, on May 11, 1941, he was ordained as bishop and pastor of his home congregation, which position he held at the time of his death. He also was serving as bishop in charge of five other congregations throughout Missouri and at Kansas City, Kansas. In 1949 he was appointed moderator of the South Central Conference, which office he filled for two years. During the past year he had been in failing health because of high blood pressure, but he continued faithful in keeping his ministry appointments. His last sermon was preached to his home congregation just the Sunday previous to the day he was stricken.
He was a kind, loving and faithful husband and father and will be sadly missed in the home and community. God alone knows the inexpressible feeling of loss to the local church, but the influence of his teaching will never end. He was always interested in the spiritual welfare of his family, and especially of his home congregation. He had a vision of the future needs of the church, having a special interest in the young people and children. Like Paul, he was heard to pray for the church, "My heart's desire and prayer to God for Israel is that they might be saved." Unknown to many, he often experienced great trials and deep sorrows in his ministry, but he bore them alone and without words of complaint. He was honest and helpful in all his dealings with his fellowmen, and to know Raymond was to love and respect him.
He is the first member of the Dan and Mary (Kropf) Hershberger family of four sons and four daughters to be called to his eternal home. On January 21, 1926, he was married to Ida Pearl Kauffman, of Garden City, Mo., who lovingly and patiently assisted her husband during his ministry, remaining constantly by his bedside during his last illness. To this union were born three sons and one daughter. One son, Willis Raymond, at seven months of age, preceded his father in death. Besides his companion, he leaves Morris of Garden City, Irene (Mrs. Alfred Yoder, Jr.) of Hannibal, Mo. and Keith of the home to mourn his departure. He also leaves one granddaughter, besides many other relatives and friends.
Funeral services were held at the Sycamore Grove Mennonite church January 30, in charge of Bro. S. S. Hershberger of Harrisonville. Bro. Earl Buckwalter of Hesston, Kansas preached the sermon. Burial was made in the Clearfork cemetery.
Pallbearers were: Wilbert Nafziger, Harper, Kansas; David Hathaway, Philadelphia, Mo.; J. P. Brubaker, n Edwards, Mo.; Glen Yoder, R. P. Horst, and Frank Raber of Kansas City, Kansas.
Other ordained brethren attending the funeral services were: Menno Troyer, J. G. Hartzler, Harry Diener, Roy Roth, J. I. Byler, Gideon Yoder, and Clarence Burkholder, all from Kansas; Daniel Kauffman, Leonard, Mo.; Alva Swartzendruber, Hydro, Okla.; Joe G. Driver, La Junta, Colo.; Leroy Gingerich, Versailles, Mo.; Oney Hathaway, Birch Tree, Mo.; and Oliver Hathaway, Palmyra, Mo.